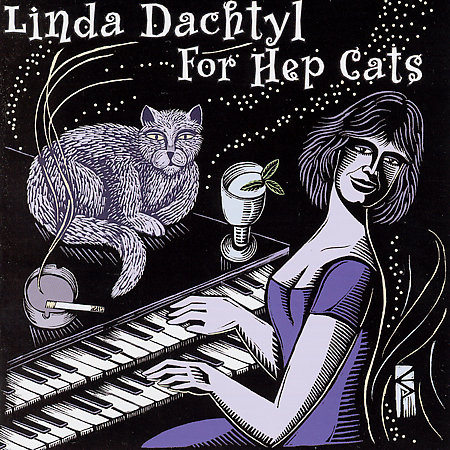 MP3: Trouble by Linda Dachtyl
For Hep Cats is the second album by Columbus' Linda Dachtyl. She has had a successful career so far in the local and national jazz scenes, playing organ, keyboards, and drums in a variety of projects. Her own group, LDB3, is a jazz organ combo that is steeped in the traditions of '60s soul jazz stars like Jimmy Smith and Jimmy McGriff and Columbus organ heroes like Hank Marr and Tony Monaco. Her first album, Blue Bop (recorded under the LDB3 & Friends moniker), was one of my favorite Columbus releases of 2006.
For Hep Cats builds on the success of her debut by sticking with that album's strengths (fresh renditions of organ classics and jazz standards) while also adding some bluesy vocal numbers and two Dachtyl original instrumentals. The album's opening track, "Trouble," features Columbus tenor sax legend Gene Walker in an update of the soul jazz classic popularized by the tenor sax/organ tandem of Stanley Turrentine and Shirley Scott. This version features plenty of gospel feel and climaxes with a double-time sprint to church before a stately return to the original melody. The group's take on Thelonious Monk's "Straight, No Chaser" features the nimble guitar work of Robert Kraut (of the Tony Monaco Trio) and Dachtyl's emotive soloing. The vocals add some sultry soul to the proceedings, especially Jazzmary's triumphant take on Nina Simone's "Do I Move You?" and Larry Smith's smoky "Little Red Rooster." The program wraps up with "Frame For The Blues," a gentle yet solid finale with substantial solos from Walker, Kraut, and Dachtyl.
Tuesday, January 8th, marks the national release of For Hep Cats on Summit Records, via Monaco's Chicken Coup Records imprint. Visit the "Releases" page at Linda Dachtyl's website for ordering information and album samples.