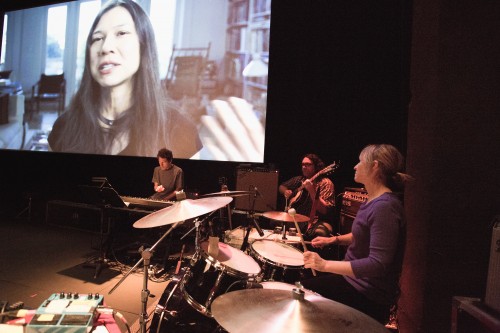 Photo by Ed Dittenhoefer, Ithaca Times
Any time Yo La Tengo comes to town it's worth noting, but this is one of those special, Wexner Center-specific shows since Ira & Georgia & James will be soundtracking the live documentary The Love Song of R. Buckminster Fuller while Oscar-nominated director Sam Green narrates. I'll have a full-length story about the endeavor in this week's Other Paper, but here's an Ira Kaplan quote about the film that I liked but didn't make it into print in its fullest form:
It's inspiring. (Buckminster Fuller's) heyday would be the 1960s. It's such a endlessly fascinating time for me. I was very young, so I have memories of it. It's a time of so much turmoil and so many things going so horribly wrong. The Vietnam War, rioting in the cities, political leaders being assassinated. When you think of the things that pass for problems in 2012, they just pale compared to what was going on in the '60s. And yet it was a time of such optimism. "We can create a better world." I feel like that's gone, too, and that seems like a real paradox. While the better world has been created, to such an extent, we've lost so much of the belief that it's possible to do it, even though the evidence is to the contrary.
Tickets are still available for both the 7 and 9pm screenings.
In other YLT news, Kaplan said the band has a new album "in the proverbial can" and is scheduled for a January release. Artwork is currently being finalized.