Editor's note: "Overlooked in Ohio" is a feature in which we ask an Ohio-based artist/music enthusiast to tell us about a few bands (past or present) from the state of Ohio that deserve some love. Our third installment comes courtesy of Bela Koe-Krompecher, a staple of the Columbus rock scene and head of the soon-to-be-revived Anyway Records — former home of Gaunt, The New Bomb Turks and countless other "important" Columbus bands, including this volume's subject, Greenhorn. …This is a long one, but do yourself a big favor and read the whole thing… (All photos by Jay Brown.)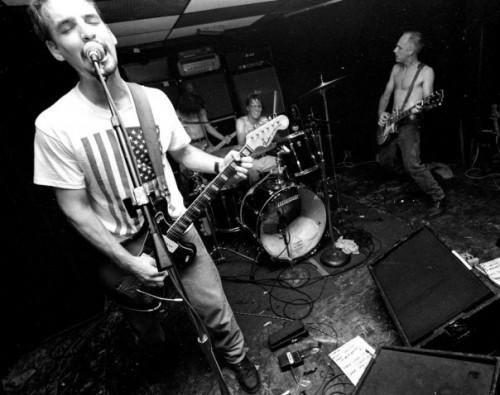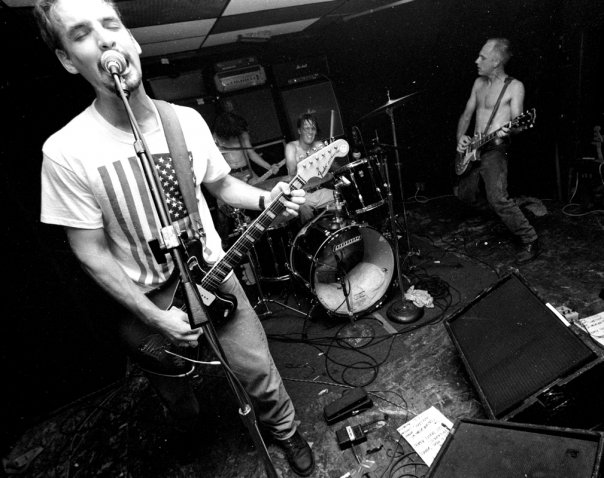 MP3: Unreleased Greenhorn album (courtesy Minimum Tillage Farming, who also has two others here)
In 1990 there was a force in Columbus that shook the walls and very foundation of such hallowed halls as Stache's and Bernie's. While it may be the easiest assumption to think that this force was The New Bomb Turks, Gaunt or the Thomas Jefferson Slave Apartments (who were all sharpening their guttural and whiny blasts of intellectual yet primordial rage to be unleashed on an unsuspecting public), none of them could hold a candle to the utter force of Greenhorn. Consisting of two sets of brothers out of the ashes of the first Datapanik band, Two Hour Trip, Greenhorn was Midwestern to the core, but they inflicted an audio assault that ranks with the best of American rock and roll.
The Columbus music community gathered around Greenhorn like ants around a dropped sucker. Everybody loved them — the punks, the junkies, the feminists (riot grrls?), indie-rockers and even the college crowd. There was nothing ironic or tongue-in-cheek about the music nor the lyrics. In fact, primary songwriter Dan Spurgeon was not afraid to let his emotions hang on his sleeve, and many of his songs consisted of paeans of love to his future (and ex-) wife. As any good-minded record geek knows, being this upfront and exposed in music is a dangerous and daunting task, especially for a male songwriter. Chan Marshall may be able to do it, but you'd be hard-pressed to believe Steve Malkmus could ever do it with a straight face, let alone Ron House.
Part of the effect of Greenhorn was the sheer potency of the Greenhorn live show; these fuckers stacked the back of the stage with a wall of Marshall amps. From floor to ceiling, the rhythm section consisted of Pat (drums) and Steve (bass) McGann, two intelligent, good-old boys with handsome boyish charm that flooded the stage with exuberance whenever they played. Steve had an intrinsic "I-dare-you" attitude that he wore on his bass, playing this out by removing two of his bass strings — the musical equivalent of "we don't need any stinking badges!" Dan sang and played rhythm guitar while his older and shirtless brother Mark played lead, adding snaky leads over Dan's simple yet vigorous songs.
(Keep reading for more on Greenhorn from Bela. Seriously. Do it.) Continue reading →