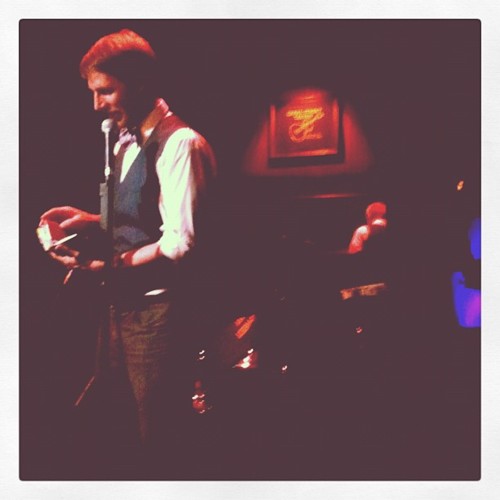 Noah Falck at Canal St. Tavern. Photo credit: Grandma.
It's been nearly a month since Noah Falck released Snowmen Losing Weight at Canal St. Tavern in Dayton, OH. Still, the memories of merriment are such that I thought I'd follow up on it all.
A very large, lively Sunday night crowd gathered to hear readings from Noah, Matt Hart, Nick Sturm and musical performances from King Elk, The Judy Blooms, Henry Daggs, Speaking Suns. As it was, the evening bore further proof that the Gem City is still alive.
Hey, in light, let's not kid ourselves, Dayton has seen better days. Nonetheless, if you dig deep beneath the mire, you'll find a very pronounced glimmer. Tawdry as it may be, I feel Dayton's art and music scene is analogous to the lo-fi masterworks of its sons in Guided By Voices. It may take repeated attempts, however, under the layers of mess, you'll find undeniable gems. Some may give up and write it off and scoff and that is their loss. However, the privy patient will discover gifts that keep on giving.
More to come from Dayton, OH soon…