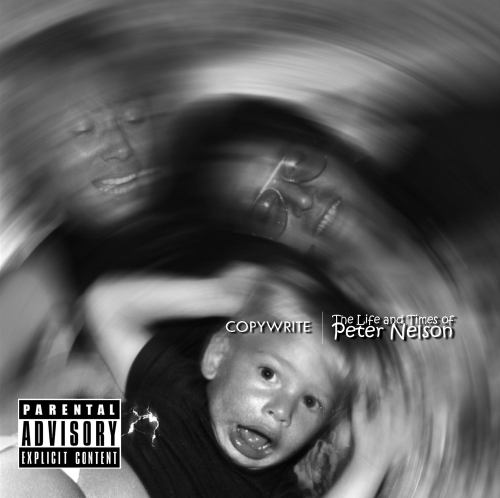 MP3:Copywrite feat Crooked I-Crooked Cop
Copywrite teams up with Slaugherhouse's Crooked I. Columbus rapping fucking with  the rapper Suge Knight cosigned after Pac passed? Yessir
This song is of Copywrite's upcoming album the Life and Times of Peter Nelson which will be released November 16, 2010.
In addition to Crooked I, Copy's new album features appearaces by Sean Price, RJD2, Illmind, Khrysis, MHZ, MF Grimm, Motion Man, Camu Tao and Dilated Peoples.
Pete is my friend, so I've heard the new album. It bangs and but also shows the side of Copywrite people loved on RJD2's June. The Life and Times of Pete Nelson is has Pete reflecting on the deaths of his Mom, Dad, Camu  Przm, his grandfather,  as well as Kurt Cobain, Biggie Smalls. But besides the introspective stuff, Pete still gives you the humor, and raw lyricism that one enjoys about a Copywrite release.
Tracklisting and credits for Copywrite's The Life and Times Of Peter Nelson:
1. It (Parts 1, 2 & 3) (produced by Surock)
2.Trooper f/Sean Price (produced by !llmind)
3.Wish You Were Here (produced by Twiz The Beat Pro)
4.Smile (produced by Joe Benny)
5.Y.O.G.A. Stretch
6.Best In Show f/ Planet Asia & Tage Future (produced by Khrysis)
7.Mega Mega FT Camu Tao, Tage Future, RJD2 & Jakki Da Motormouth (aka MHz) (produced by Surock)
8.Forever And A Day f/ Middle Distance Runner (produced by RJD2)
9.Bored (produced by DJ Rhettmatic)
10.Seratonin (produced by Josh Gabriel)
11.Future Throwback f/ Jet Jaguar (produced by Twiz The Beat Pro)
12.Three Story Building f/ Dilated Peoples & MF Grimm (produced by Twiz The Beat Pro)
13.Rob The Club (produced by Camu Tao)
14.Confessional (produced by Rob Stern)
15.Alive f/ Motion Man (produced by Kount Fif)
16.Shotgun (produced by Dank Charnley)
17.Don't Kill Me (produced by the Intalec)
18.Crooked Cop f/ Crooked I (produced by Twiz The Beat Pro)
19.Mother May I (produced by !llmind)
20.Tic Toc (produced by RJD2)