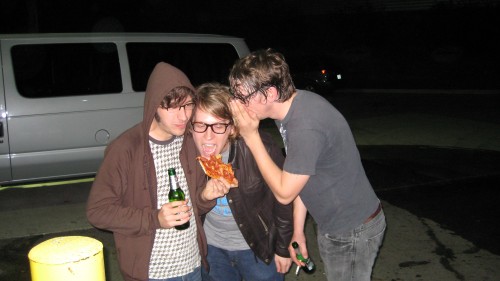 Photo of Pat Carney, Michael, and Gabe taken last time TBK played LC
(THE BLACK KEYS PLAY THE LC HERE IN COLUMBUS FRIDAY AUGUST 12th)
I accidentally set a phone interview up with Pat Carney, drummer of the Black Keys, during the same time as my little brother's bday party. On the upside, the interruption of my little brother's celebration informed me that my mom saw the Black Keys on Leno, and they talk about the Black Keys at my older brother's work.
They have family name recognition for obvious reasons: The band debuted number 3 in the nation with their newest  album "Brothers". People that like rap love them. Teenie boppers who like vampires love them. Movie stars love them. Men, who aren't pussies and wear jean jackets with patches expressing solidarity with Vietnam P.O.W's like them. And indie rockers still bump them next to Andrew Bird, St. Vincent, and Best Coast.
I am especially happy that you can now say "Tighten Up" around a female  without her thinking that its a joke about the size of her vagina. (Usually, they will say you have a small dick. The only argument around that is to blame the patriachy for making them shamefull of their big vaginas. It is a double standard)
My point. My mom and older brother know who the Black Keys are for the same reason they sold out the LC. They are doing well and working hard.
The downside it that Pat called me back while my mother was cutting watermelon on the back patio. So i scooted off to another room… I want to call it the family room. But I don't think we have ever called it that.
But because I was in a place that could be called a family room, I was interrupted by my little brother and my mother offering me watermelon,  soda, video games and conversations that would never pertain to any of my interests.
So a road exhausted Pat Carney forced himself to call me when he would rather be napping to promote a show that was already sold-out, because he didn't want his younger brother Mike to harass him anymore and I was mad awkward because I didn't want to curse or speak on ellicit matters in the prescence of those that share genes with me.
With that context read about the Nigerian Bank, Touring, Truth and Soul, Lollapoolaza, the Rza, Columbus, and Mike Carney the life coach.
So I saw that the Nigerian Bank hacked into your email account?
Pat Carney: Someone in Nigeria did. I got a gmail notification that my account was compromised from Nigeria. They sent a mass email out to my contacts saying I was stranded and I needed money.
Did people start hitting you asking why you were in Nigeria?
The email said I was in the UK. I did receive a million texts wondering why I needed money. Continue reading →