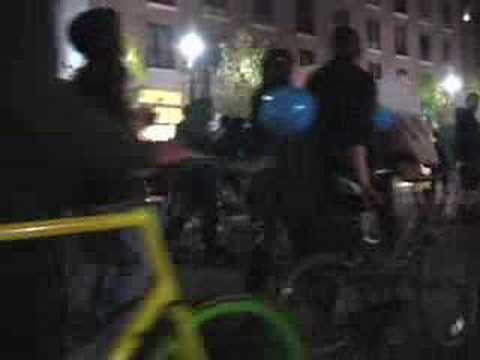 If you are a human being and consider yourself  someone who likes culture, art, music or anything….. Basically, if you like anything at all and aren't a terrible unhappy person for chrissakes watch the above video. It's of last year's Daymon Day Parade.  Even if you are a terrible, unhappy person still watch the above video because maybe it will brighten you day.  Seriously watch the video.
Watched it? Way better than any desription I could ever give.
Anyway, the 3rd Annual Daymon Day Parade is upon us honoring Racist Joe aka So What born Daymon Dodson. We also tip our hats to Przm, Camu Tao, Heist, Phrite, Nasty Nate and anyone else that has passed away. This isn't just about Daymon. It's about making something negative into a joyous moment. Your devotions will find a vehicle.
The parade is starting at 5th & High this year. We were unable to secure a permit for Tuttle Park like previous years. But the good people involvedwith the Gay Street Festival downtown were nice enough to extend a stage to us so people could gather outdoors after the parade.
On that stage will be performances by Youth Attack's Vile Gash, and The Catalyst (ODOT/Thought Set) DJ Detox and Tru Skills will hold the alley down between acts. The festival is free.
So this year the parade starts at 5th and High. It leaves promptly at 6. Our good friends at Milk Bar have offered us space to assemble. We will have dejays set up there at around 4. Milk Bar isn't a pretentious boutique. It's also not a bar. So kids are a ok.  So everyone please feel comfortable.
Anyway. Columbus loved Daymon. Parades are fun. Walking in the middle of High Street during a game day only comes once a year. So even if you didn't know Daymon you can feel free to show up. He made everyone at ease when he was out. So it's that spirit that will be in place. It's about enjoying life. Bring an instrument or drum to make noise. We are trying to have a marching band. If the marching bad turns out either atonal like a No Wave performance or as fluid as a New Orleans funeral band regardless it will be tremendous.
Here are a couple MP3's by the artist performing after the parade. They are abrasive but fitting for this paticular legacy of Columbus Music.
MP3: Vile Gash: Cleanse The World