Tag Archives:
Moby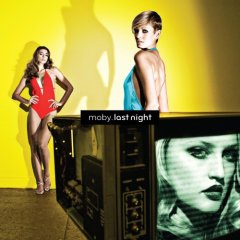 You can stream Moby's new album over on MySpace. It comes out officially April 1.

I use the Tuesday before the music festival to reintroduce myself to Austin. I didn't go last year so I had two years of changes to figure out. So I walked around a bit to see what's up.
Went to my first SXSW panel of the year, "A Conversation With Moby." He was really candid about his feelings towards politics, music, his life, and enjoying lots of sex.
He described his new album, out on April 1, as a condensed version of a 8 hour night out in New York City. The music starts slow, speeds up, gets dark, and then ends peacefully. I've not heard any of it – I want to like it, cuz I think Moby is a genuine dude.
The most interesting thing he talked about was mobygratis.com, a website where independent and no budget filmmakers can get a lot of Moby's music for free and use it in their films. If those films end up turning a profit, the money that would typically go to Moby would instead be donated to the Humane Society. More details here.
We didn't really have many solid plans for last night as far as music goes. We went to Club Deville to see bands do Guided By Voices covers at their Hoot Night. A lot of the bands didn't give their names, and the quality of the covers ranged from really good to quesitonable. The band that did "Glad Girls" I thought was the best of the night. Anyone know who they were? Post in the comments.
After that we went to a very very very very packed Red 7 to see Naked Raygun. We stayd for a few songs, but were too exhausted from the day's travels to keep it going.
One final reminder – the donewaiting.com Wednesday day show is today, suckas! Free PBR while it lasts, and we just added Columbus Ohio's Envelope as the host of the event. Full details of the show here.
Princess Superstar lists a 3/13 SXSW date with Moby and Justice on her MySpace page.
(Thx J.Savage)