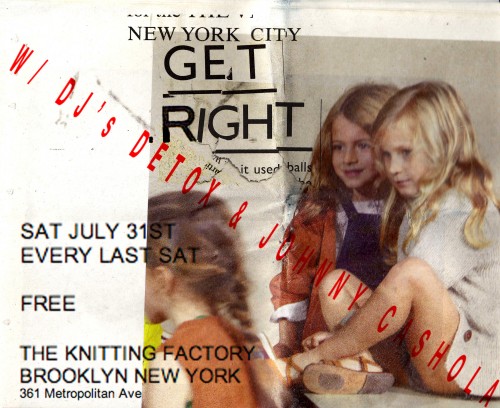 flyer by Martin "Hugo" Can't say the Ronson in anymore of 3cb in close association of PBJK
MP3: DJ Detox & DJ Johnny Cashola-Get Your Mind RIght Vol. 1
Get Right Columbus is now also going to be a monthly in Brooklyn starting July 31st. Say Word?
Word.
The folks at the Knitting Factory carefully stumbled upon Get Right Columbus success. And they dealt with mathematics. And what does that add up to?
Every last Saturday, every month starting in July, DJ Detox, and Johnny Cashola will be bringing the same club bangers to the Planet aka Brooklyn is the borough.
Can't make the commute to Get the Empire State of Mind Right? Disnae worry…Get Right will still be monthly in the C-O.