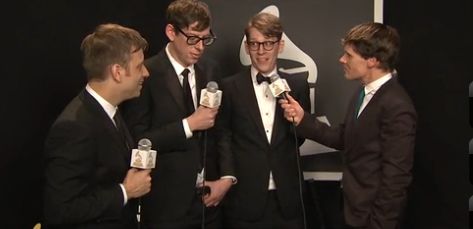 (Photo from www.Grammy.Com)
The Black Keys's art director Michael Carney won a Grammy for the packaging of the the Black Keys's album Brothers. The Black Keys also won Grammy's for Best Alternative Music Album and Best Rock Performance By a Duo or Group With Vocals.
I interviewed Michael Carney back in December for an article that I wrote in the Other Paper when he was initially nominated.
Here is the full interview where Mike talks about what is unique about Brother's packaging, CCAD, Columbus, and more.
Where were you when you found out you were nominated officially?
I was in my apartment in Fort Greene with my friend Mike Swen refreshing the Grammy's website when my brother called and told me.
Are you going to the ceremony?
Yes.
What was the last official ceremony that you have been to?
I guess graduation from Art School, unless a Trey Songs concert counts.
In this age of downloading…what role do you think art direction plays in what gets purchased, and what gets downloaded?
I have found in the past few years larger labels are actually willing to go over the top when it comes to packaging. It seems like right now it is really easy to get people to listen to your music, but to get people to actually buy it is a whole different story. There are so many bands that seem like they are huge because they get tons of press, but they don't actually sell any records.
I don't think good art direction means that a record will sell, but I do think that bad art direction could easily keep your record from selling. Continue reading →