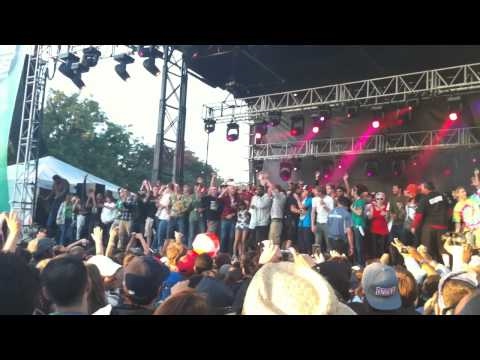 Jay Electronica brought a bunch of hippies on stage with him this weekend at the North Coast Music Festival in Chicago.
This video has Jay rocking "Googley Eyes" over PaceWon's 1998 single "I Declare War", I had forgotten Ski Beatz produced that song until this moment.
Jay transitions into "Eternal Sunshine for A Spotless Mind", a song where the New Orleans emcee raps for like 9 minutes of loops from the movie of the same name. This performance is enteraining for two reasons. 1)Hippies actually try to dance to a loop from an incredibly depressing movie and no drum. 2)Security starts throwing the crowd off the stage. Jay times it so that half the crowd gets thrown-off while he is saying "you can fit in with the close minded at the sit-ins" then turns around right on when some kid is being violently removed at the exact part where Jay exclaims "fuck rap. fuck that. this god-hop" and raps it in the face of the security.
This video ends with Jay Elect doing an accapella of "The Ghost of Christopher Wallace" which has the best literary referancing lyric of 2010 "the flow is so Tolstoy, Fyoder Dostoe , half-oyster, half shrimp fully dressed po boy".