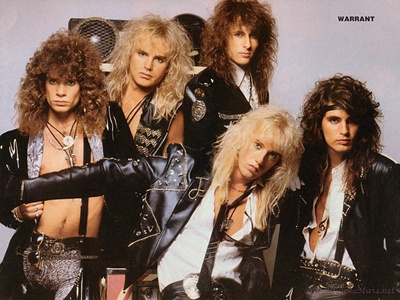 Local bands doing '80s power ballads sounds like a helluva good time to me. This theme night has been going on for 10 years but I was always afraid to attend because when I think of '80s power ballads, I think of hair metal and my biggest fear was that some might do covers of Whitney Houston or New Kids on the Block songs.
I've been told by Chuck Oney – one of the night's organizers – that the setlist for Saturday night's show includes covers of songs by Poison, LA Guns, Metallica, Def Leppard, Bon Jovi, GNR, Faster Pussycat, Motley Crue, Autograph, Steelheart, Billy Squier, Prince, Night Ranger, & John Waite.
Scheduled to perform at The Treehouse (887 Chambers Road) are: Karate Coyote, Keith Jenkins & The Moving Parts, PoopHouse Reilly, The Vague, One Pretty Minute, Tom Boyer, Rick Kinsinger, Erika Carey, Pat Moore, Lydia Loveless & Go Robot Go!!
Here are my top 11 power ballads from the hair metal era (some snuck into the early '90s so I don't want to call them "80s power ballads").
1. "Heaven" – Warrant
2. "I Still Think About You" – Danger Danger
3. "Sister Christian" – Night Ranger
4. "Wasted Time" – Skid Row
5. "Never Let You Go" – Steelheart
6. "Fly High Michelle" – Enuff Z' Nuff
7. "Don't Close Your Eyes" – Kix
8. "Thru These Eyes" – Spread Eagles
9. "Love Song" – Tesla
10. "No Stranger to Love" – Black Sabbath
Videos for all of these songs after the jump. Continue reading →