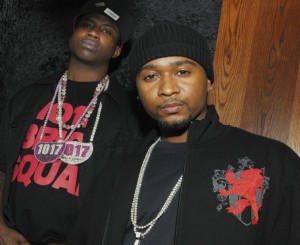 MP3: Prince Kennedy and Zaytoven Announces New Gucci Mane Movie Birds of A Feather and new Reality Show With Gucci & Waka
Update:This was submitted before Waka Flocka's Good Friend and BSM member Slim Dunkin was murdered in Atlanta yesterday. Our Condolences go out to Brick Squad and Slim Dunkin's friends and family.
The homie Prince Kennedy shot me this MP3 of superproducer Zaytoven talking to the Beat 94.5 in Charlotte, North Carolina.  You know Zaytoven that produced Gucci Mane & Young Jeezy's "So Icey?!!..Yeah man.
Anyway,  Zaytoven explained working him and Gucci working V-Nasty, and what caught his attention about her. He basically said she isn't a basic bitch without saying basic bitch. She says bitch so I can?
He also announced Gucci Mane, and Waka Flocka have a reality show called Back to the Basement in the works.  Gucci Mane also has a movie coming out called Birds of  Feather.
So good readers of Donewaiting download the MP3 and see what Zaytoven is talking about.