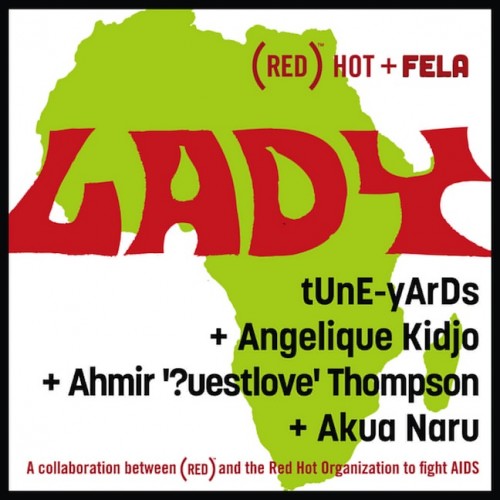 tUnE-yArDs, 'Questlove', Angelique Kidjo and Akua Naru have remade  Fela Kuti's " Lady" to help raise money and awareness for the inaugural (RED) RUSH TO ZERO which is a 10 day campaign (June 1st-June 10th) which aims to eliminate transmission of HIV from Mother's to babies among other efforts to help deliver an AIDS Free Generation by 2015, a critical milestone in the fight against AIDS. For more info about Red Rush visit here.
The tUne-yArDs & Questlove led remake of "Lady" is the first single off of (RED) Hot + FELA, a compilation that pays tribute to Fela Kuti that will be released on Knitting Factory Records.
The track's producer, Merrill Garbus of tUnE-yArDs, said, "I wanted to reclaim 'Lady' for women in the world today, particularly African women, who will have an important role in ending the AIDS epidemic there. I was so happy to have the powerful Angelique Kidjo pour her soul into it, and then rapper Akua Naru wrote a raw, intense verse that perfectly extended and completed our vision of the song."
OkayAfrica will have behind the scenes footage of the creation of this remake Monday.