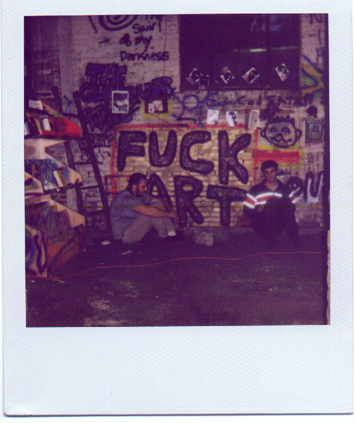 Tomorrow night, Skylab will serve as the first out-of-state site on a month-long winter tour for Tampa's my [left] uterus (or m[l]u for short).  In case you are wondering, the band is made up of two men, so there are no actual uteri involved.  Like their name, the duo's music is also a mix of confrontational and goofy, shifting among many different noisy rock styles and screaming through them.  Between the two tracks below (recorded two weeks ago) and the four on myspace (link above), m[l]u touches on noisepunk annihilation, sludgy metal, and even some mini jam sessions.  The bare-basics setup at Skylab should be a very fitting backdrop for the two-man fury.
Providing opening sets will be Columbus' own Rage Against The Cage and Forest.  RATC is billed as an a capella grunge choir and is masterminded by Sword Heaven's (and of numerous other projects) Aaron Hibbs.  I was kind of hoping that it was grunge covers, but that does not appear to be the case, and also appears to be much more exciting that way.  Check out the video below for proof.  Forest is the psycho-kraut project of some CCAD students, and as evidenced by the myspace tracks, their sound will definitely mesh well with the night's proceedings.  Complete with a light show, the choice between dance party and spontaneous combustion will likely be difficult to make.
The show starts at 9pm and Skylab is asking for a $5 donation as cover.  However, if you have energy to burn beforehand, at 7pm Skylab will become Sportslab, where you can play basketball (knockout, 2-2), four square, double dutch and bunch of other weird games that the hosts invented.  Come to Skylab tomorrow for a unique night of athletic activity, otherworldly entertainment, and brotherhood.
MP3: eat – my [left] uterus
MP3: time to give up – my [left] uterus
Video: Rage Against The Cage Live!