Tag Archives:
Richard Buckner
Via Cover Me Songs, this was recorded two years ago at Merge's 20th anniversary bash, but just recently released.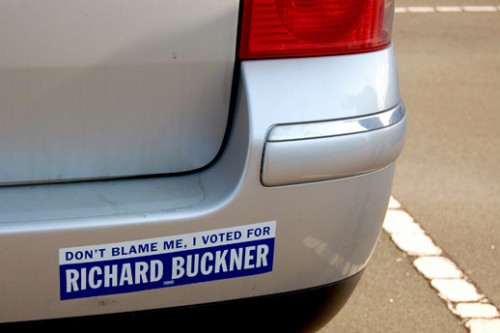 Editor's note: In anticipation of Richard Buckner's long-awaited Our Blood, out today (8/2) on Merge Records, I asked Buckner fan Jerry DeCicca of The Black Swans (a band that has shared the stage with Buckner) to say a few words about the man:
I'm submitting this text as my end of a barter: I received the new Richard Buckner album, Our Blood, several months before its release in exchange for typing about it for this "website." Summation, however, isn't really my bag and, for Buckner, I have no critical eye. Instead, I'll state why I made this agreement and try not to gush much.
Long ago, in a pre-Internet world, I became a Buckner-head, tracked him cross-country whenever word spread of a show. The road was his home, so opportunity abound! Then, he was something of a folksinger, or maybe he just sounded like one because he played an acoustic guitar. Like Mark Eitzel, Vic Chestnutt, and Mark Linkous, he used language and a guitar in a way that made everyone else sound square and safe and dumb. He channeled Creeley and cummings and William Carlos Williams and Townes Van Zandt and the mountains. Every record released was an event. Collaborators ranged from Butch Hancock and Lloyd Maines to Calexico to Marc Ribot and Dave Schramm to a Canadian (future ex-wife) drummer. Continue reading →