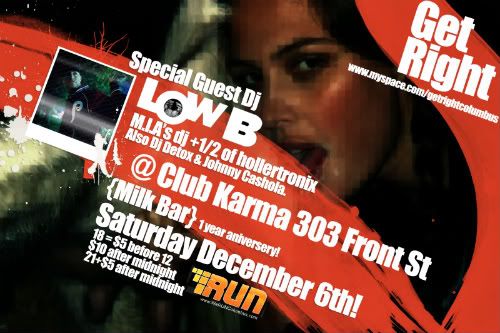 It you truely exist within the Columbus Rock No Roll community you will undoubtely will be at the Summit this evening for the Rock N Roll Buffet. It's a Columbus tradition that I never attended because I only like 23 bands in Columbus so I have no desire to see them playing musicks with people I have no interest in seeing. But thats just me. It's a special night for the city that is good for the community and morale. All sarcasm aside. It's wonderful how happy it makes people.
But if are you like me..really bored rap fan… then your dilemma is: do you go see Low Budget of the Hollatronix or OJ Da Juiceman. Now seeing Low B is huge for me because he along with Diplo popularized the idea of playing various regional musics and indie rock together after intuitively picking the idea of playing music that is good, and has real energy to it would prolly be fun. Remember when you would go to indie rock parties and they would just sit around listening to Deltron or James Brown. And you would have the Clipse "Grindin", Chopped and screwed Al Green or N.O.R.E.'s Homeboy, I Came to Party on your walkman bored as shit at how stuffy everything was. Then Low Budget and Diplo dropped a bunch of mixtapes and made hipsters actually fun to be around? Well, I thank Low Budget for that even though now so-called hipsters seem to uninspired at this point because they are stuck on having Crunk in their system. And really safe. Like Kool Keith was up in here…yeah yeah yeah. But thats a different story.
So then..the true hipster would know the place to be is Club Static where OJ.Da Juiceman is playing. OJ Da Juiceman is Gucci Mane' friend/possibley brother. And since Gucci Mane like OJ Simpson is in jail now, in the great Columbus tradition of going hard on some hoodshit; OJ Da Juiceman comes to Columbus once every two months and packs rooms. So if you really want to be in touch with your cities' pulse then O.J. Da Juiceman is the only place to be. The only problem is that O.J. Da Juiceman  kinda sucks. He isn't funny in the like this guy isn't all there —-like Gucci. But it's still beautiful that Columbus goes hard for Gucci like it did for the Dips.It's not like OJ Da Juiceman is on the radio. Couple that with the fact Gucci Mane prolly sold less records that Brother Ali his last time out, then Columbus is real cool.
But catch me at Low Bee because he is one of the most influential dejays of our time. And it's Milk Bar's 1 year anniversary. You know the place that did things so right Lebron James thru a party there….
Here is an OJ Da Juiceman video.