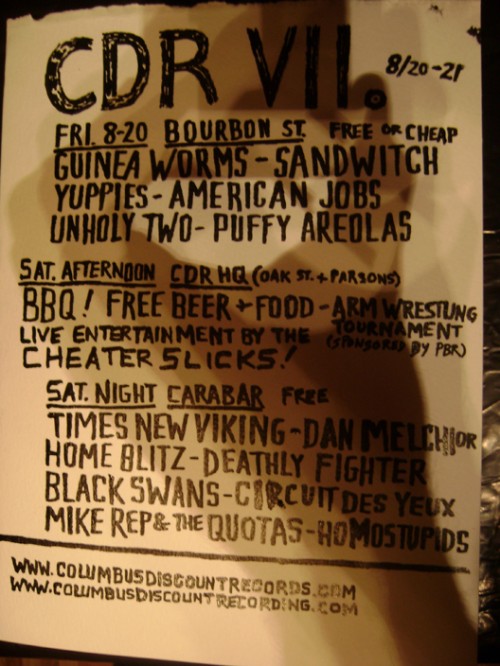 It's that time of year again, when grilling meat, arm wrestling, and indie rock somehow end up together in awkward sentences (like this one). This weekend is the seventh annual Columbus Discount Records BBQ, where the local label shares the wealth and gives you a wealth of local/international talent to gaze upon for as free as possible. This year's version of the tradition entails two star-studded rock shows (Friday night at The Summit and Saturday night at Carabar) as well as a multi-faceted get-together Saturday afternoon at CDR HQ (corner of Oak and Parsons, just up the street from Carabar). Highlights:
Friday night at Summit: Sets from local Uggs-rock veterans the Guinea Worms and the most-successful, longest-lasting Rock Potluck band ever, Sandwitch (featuring Ron House), are those most likely to slay. Omaha's Yuppies will play the part of the noisy visitors from out of town, and the night will be rounded out by intergalactic party Mormons Outer Spacist and the sheer spectacle of the Unholy Two. You will probably leave this show wearing beer.
Saturday afternoon BBQ: Obviously, free PBR and grilled eats would be a highlight of any day. However, this party also includes your chance for eternal glory with an arm-wrestling tournament! The male and female brackets are both sure to be tough, but you still have a couple days to train. If all of this is not enough, local legends the Cheater Slicks will play a set in the CDR studio around 5:30.
Saturday night at Carabar: This is where the big guns come out, so hopefully you are not drunk enough or drunk enough to enjoy it. Local wonders (and musical inspirations to Beck) Times New Viking will headline and close the festivities. I am excited for another visit from the prolific globetrotter Dan Melchior, who will surely entertain with whoever might be backing him up, and a set from Harrisburg, Ohio's favorite sons, Mike Rep and Tommy Jay, will lend some tuneful and grizzled character to the proceedings.
More information, conspiracy theories, and conjecture here.