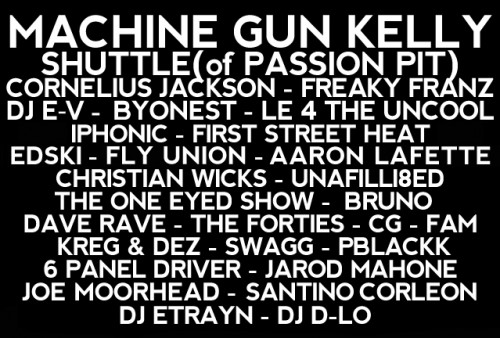 As you can see above Machine Gun Kelly and Shuttle from Passion Pit will be joined in Athens on May 21st by a good amount of Columbus, and in general Ohio acts.
Fly Union, Cornelius Jackson, L.e. for the Uncool, P. Blackk, Byonest, Bruno, Kreg & Dez..well you can just look at the line-up above.
WTF is 8Fest?
It is an annual festival and benefit concert held in Athens that donates money to charitys and also allows you to drink as long as you are of age and don't bring glass.
This year 8 fest will be raising chartiable donations fo Don't Break the Bond, Project Lifesaver & SALT (Seniors and Law Enforcement Together)
8Fest is BYOB, and tickets and more info are available here.
Cornelius Jackson is curating a VIP tent with Shuttle from Passion Pit which I will post on later this week.