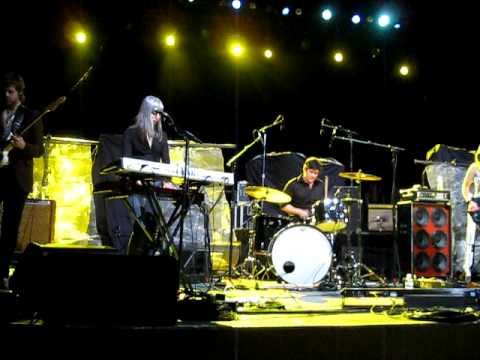 March 2004 – Saw The Dears at SXSW. My first year there, my first experience with the band. Somebody said, before we saw them, that they are like "The Smiths meet Pink Floyd". We all leave Emo's impressed.
March 2006 (I think) – Make it a point to see The Dears at SXSW again even though they are playing my least favorite club. They aren't scheduled to go on until 1am but I figure I'll tough it out. They start soundchecking about 5 'til 1 and continue on for about 10 minutes. Then they proceed to open with an instrumental that felt like it lasted another 10 minutes. I left, totally disappointed.
Sunday, May 10, 2009 – I feel like The Dears owe me one. This is their chance to make it up and, truthfully, I'm not too worried. The new CD, Missles, is a good one even though it originally was supposed to be a Murray Lightburn solo CD from what I've read.
Great Northern (read my fresh-off-the-presses interview with them) and Eulogies (read my Dec.'08 interview) open the EARLY show at Skully's (doors at 6:30, show done around 10pm).