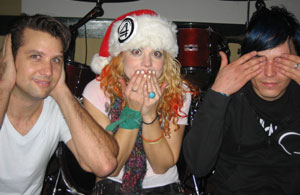 Okay, so maybe it's my own personal UNOFFICIAL Donewaiting 5th Anniversary Show (it's like a SXSW day party is to SXSW), but I couldn't have put together a better bill if I had tried. The Dollyrots (number #2 on my Best of 2007 list) return to Columbus for the 4th (or 5th) time in the last 12 months as part of a co-headlining bill (The Love and Conquer Tour) with the rockin' goodness of Suffrajett. The Chicago-by-way-of-New-York Suffrajett are no strangers to Columbus having played clubs all around town many, many times over the last 4 years.
Though they've been playing pretty much non-stop for the last month, The Dollyrots took a few minutes to answer some rather pointless questions I tossed their way last night.
Do you love Columbus yet?
You bet your sweet little Buckeye Arses we do!!
What's the best meal you've had while on this tour?
We stayed with our friend Andrea in Birmingham, AL and we made a home cooked Mexican Feast! It was UNBELIEVABLE! Fresh Guacamole, Avocado, beans, and tofu crumbles with taco seasoning mix!! Check out the photo in our Myspace blogs! YUM!
What's the most surprising thing you've learned about Suffrajett on this tour?
Did you know that Simi grew up in Woodstock, NY and has a bit of a Hippie flair? ;)
What are the top 5 CDs or songs you've listened to in the van on this tour?
Well, besides our podcasts of "This American Life" (NPR), probably "Games" by TEENAGE BOTTLE ROCKET, "100 Locks" by GET SET GO, The new AGAINST ME record, "Sunny side of the street" by THE POGUES, and "Man Boy" by THE VASELINES. There's a whole crap load of Ipod Shuffling as well!
Is there anything fans can bring you (clean socks? new music? bags of Cheetos?) to make the rest of the tour a little bit easier?
Yes Yes Yes!! We need black wool socks to keep our toes warm! Also, bottled water and Emergen-C packets are always cool! And of course some delicious flavored vodka or light beer would be cool too!!
So, Donewaiting community, how about showing your love for female-fronted rock and joining me front and center at the Ravari Room tomorrow (Friday, Feb.22) night? And don't forget to bring along a little gift for The Dollyrots. 5 bucks will get you in the door for the show which starts at 10pm with upstarts Help is on the Way (featuring Gonzo on drums).