Tag Archives:
superchunk
Fans of Superchunk, cats, and/or cocaine should enjoy this new video.
Comments Off on Video: Superchunk "Crossed Wires"
Posted in Video
Tagged superchunk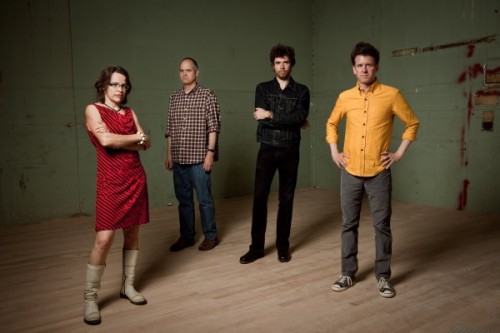 It's good to see Superchunk kicking around again. The band is releasing their first full length album of new material in a long ass time next Tuesday which you can pre-order here.
The band is on tour: Continue reading →
Comments Off on Superchunk: Download MP3 from New Album "Majesty Shredding"
Posted in MP3
Tagged superchunk
… you knew the setlist in advance?
All the Smashing Pumpkins reviews recently have gotten me thinking … people seem to be pissed that their set consists primarily of stuff from the most recent album (call it the Pumpkins Chinese Democracy if you want since it's basically a Corgan solo album). If the fans knew in advance that the set would be 80% new material with just 3 or 4 "greatest hits" tossed in, would all the shows be selling out? People wouldn't have the right to complain after the show if they knew the setlist in advance. Of course, that would also remove some element of surprise.
Jimmy Eat World announced a 10-date tour in February in which they'll be playing (in my opinion) their best album, Clarity, start to finish to celebrate the 10 year anniversary of it's release. I own all their stuff but found the most recent album to be disappointing. If I'm going to go see them, I'd like to hear older stuff. If the Clarity-revisited tour was hitting anywhere in Ohio, I'd go without hesitation.
The Toadies came through town recently. I am not terribly familiar with their older stuff but the stuff I've heard didn't totally blow me away the way the new stuff does. I was really bummed I had to miss their show but I heard that they only did 2 or 3 new songs so I'm sure I would have been upset had I been able to make it.
Last example … I love Superchunk's Foolish. Love it – think it's one of the best albums of the mid-80s alt/indie rock world. I don't really know the rest of their stuff all that well though I do own maybe 2 or 3 other CDs. I saw them do a reunion show at SXSW a few years back and really only recognized one songs from 'Foolish' and felt a bit disappointed that I had spent an hour watching them just to hear one song when I could have probably seen a dozen other bands during that same time slot that would have left me feeling more satisfied.
So, I ask, would knowing the setlist in advance of bands that play venues like the Newport or bigger (because I imagine bands doing tours in venues like this have pre-determined setlists rather than making stuff up on the spot or tossing something in should it strike their fancy if they are playing at Ravari Room or The Summit) help you make a decision on whether or not you'd go see a band? And, if your favorite band was playing a set of all new stuff when you only really wanted to see their old stuff, would you skip the show?
Leave a comment below or post in the message board.
(Photo by Domino Mask)