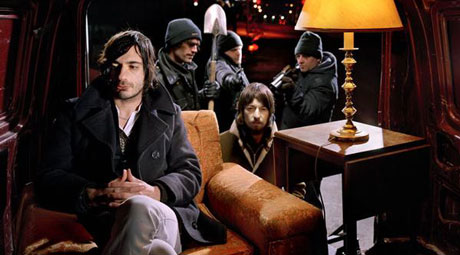 MP3: Afterglow
MP3: All Angels Road
MP3: Monolith
MP3: Calcutta
MP3: Trumpet for a Lung
How many times have you performed at SXSW?
Hopewell has performed 4 times so far. This will be our 5th.
If you've performed at SXSW, what's your best memory of the festival?
Last year our bass player leapt off stage into one of those bouncy inflatable cages full of children and then ran into the barbershop that was hosting the day party and got a free SXSW mohawk. One year I came to riding a miniature train around a park on the outskirts of Austin with a nice girl I didn't really know.
Share one thing that you know about Austin (a fact, bit of trivia, etc.) without using Google for help.
The bats! Bats live in tunnels beneath the city, ready to suck the blood out of already bloodless music industry insiders.
Shiner Bock or Lonestar?
Tito's vodka and green tea.
Daniel Johnston – Austin legend? Any interest in seeing him perform this year?
He exists alright. More so than you or I. If I can I will go see him.
Which statement best summarizes this year's experience?
Play as many shows as possible
See as many bands as possible
Hook up and party with friends
Play a show or two and get out of town
Comments about previous question:
SXSW is the time when we get to see all of our friends – it's always like a class reunion or something. We like to play a lot because it keep us out of trouble, but the real reason we make the trek is to hang with old friends and escape the doldrums of Brooklyn's winter.
For those not familiar with your music, what bands have others said you sound like?
Can, Jane's Addiction, The Flaming Lips, Jesus Christ Superstar, Yoko Ono (not really, but I wish..)
Pimp your SXSWshow(s)/websites/whatever:
Our confirmed SXSW shows thus far:
March 12th – Tee Pee Records showcase SXSW with Earthless and Witch
March 13th – Birds Barbershop day party SXSW
With more up in the air as per usual.
Visit us: http://hopewell.tv, http://myspace.com/hopewell, http://teepeerecords.com