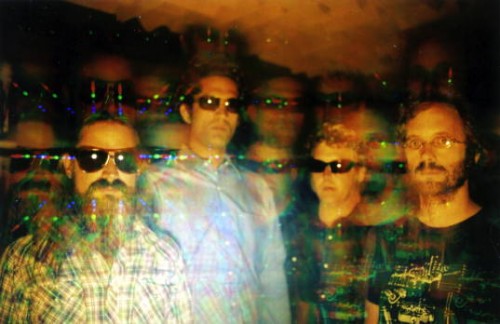 photo courtesy Holy Mountain Records
San Francisco's Wooden Shjips are the quintessential Terrastock band. Fuzzy, loose around the edges and classically Psychedelic, their unique brand of head music draws equal inspiration from Japanese rock, Kraut, modern minimalism and their lysergic fathers from the American West. To put it simply, their discography is essential listening for anyone even remotely interested in the Psychedelic with a capital "P". I caught up with mainman Ripley Johnson in anticipation of the first of what will hopefully be many Terrastock slots. This is my top festival pick.
After a flurry of releases in 2007, we've had about seven straight months with zero Shjips material. What gives?
We've been putting more energy into playing live, which is what we did in the first half of 2007 as well. We have a split 7″ with The Heads coming out, which will be available on our July tour with them in Europe. We're also finishing up our 2nd LP for Holy Mountain, which will be available in the fall. And our early vinyl releases have been compiled as "Vol 1″, and is out on Holy Mountain in June. There should be another 7" or two out this year.