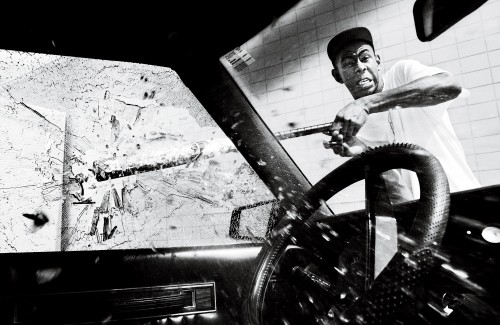 Last year, I interviewed Waka Flocka Flame. I told him that punk rock and metal kids love his music because its rowdy-as fuck.
And I asked him if he fucks with punk or metal
This year Odd Future blew the fuck up because of the same sentiment. I think Tyler's record Goblin is damn near 100,000 on an indie(bout it like Master P in '96 indeed). Mellowhype's reissue on Fat Possum of Blackendedwhite broke the Billboard Top 100. Breakin' the Rules is cool again.
So I am really stoked that Interview Magazine had Waka Flocka Flame interview Odd Future's Tyler, the Creator.
In this excerpt Waka Flocka asks Tyler, the Creator if he considers himself punk rock or metal:
FLAME: So would you describe Odd Future as a hip-hop heavy-metal group? Or a punk-rock rap group? How do you describe what you and your crew do?

TYLER: I don't like either description. I don't like being put in a box. I just make music, you know? When you're put in a box, people have a set mind-state of what your music could sound like before they even look into it. Like, if no one ever heard of me, but I'm hip-hop-metal-rock, then they're already gonna have an expectation of what the music will sound like. Then, when they go in and finally listen to it, it might be different from what they thought, and they could automatically hate it because they already had expectations.

FLAME: I dig it. You gotta create your own genre.

TYLER: Yeah.

FLAME: So what inspires y'all then?

TYLER: When I'm on stage, it's, like, Ian Curtis and Sid Vicious—like, real punk rock and shit. I'm like a big 10-year-old when I'm on stage. I just go up there and do whatever I think is cool at the moment. And then, when it comes to rappin', I like watchin' a lot of cartoons and movies and shit. Usually, when I'm rappin', I'm creating a big story or a concept song that sounds like a movie to me.
Read the whole Interview here.
Read my review of a Waka Flocka Flame show in the Other Paper too while your are at it!