The first full day of SXSW music has passed and I have the aching feet to prove it. Watching music from 12pm to 1:30am is hard work people, but I do it for you.
The day started at the Austinist party with Garotas Suecas, a band made up a bunch of 19 year old Brazilian kids. Garagey, fun, it was a great way to start the day. After them I only caught one song from Here We Go Magic, the new band featuring Luke Temple. I liked what I heard, and I'm going to try to catch an entire set by them this week. I blame my first time drinking absinthe as the reason for f'ing up my schedule.
I left the Austinist event and went to Little Radio's show and caught The Whispertown 2000 who rocked out a lot more than I expected. After them was the Evangelicals. For some reason I've let Evangelicals pass me by all this time, and now I want to dig into their albums. Drenched in a blissful blanket of feedback, making an impact even though they were only able to perform 4 songs.
Scheduling issues made me miss Amanda Palmer, my first :( of the week.
I went back to Austinist's show to see Elvis Perkins in Dearland, and they blew my mind. Perkins has a huge band with him, and they sounded great. Sometimes they reminded me of Beirut, other times AA Bondy. I took a video of one of the songs and you can see it here.
Franz Nicolay of The Hold Steady is awesome solo. I've got proof:
I was fortunate to get invited to the Austin City Limits taping of Andrew Bird. I love ACL and I love Andrew Bird, so for me it was a perfect combination. And man, like the volunteers of SXSW, the ACL volunteers are so friendly. Right before you walk into the studio, there are two tables of free beer for you to take into the taping. Let me tell you, you do not get this kind of service at a Letterman taping. The set began with an amazing performance of "Why?" and kept on going for well over an hour. I won't spoil the set list for you, but you definitely need to tune in when it airs.
Photo of the set: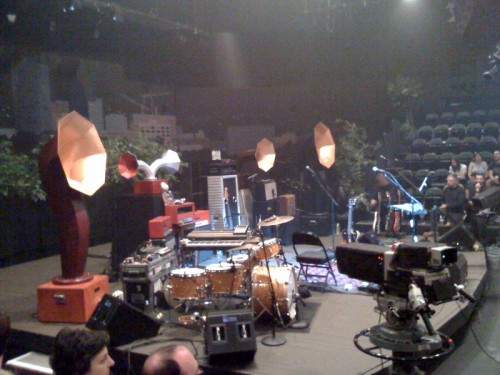 I ended the night at Stubb's. I first caught The Avett Brothers, which I am not too sure about. Is it weird that they sort of reminded me of System of a Down?
And like Tuesday night, I once again ended SXSW with The Decemberists. This time, though, they performed their new album, The Hazards of Love, from start to finish .. without stopping! It wasn't until the encore that Colin Meloy actually addressed the crowd. It was a marathon performance, and I loved hearing the new stuff live. Stand outs were "The Rake Song" and My Brightest DIamond's Shara Worden.
NOTES
– I'm in a rush to my blogger panel (today at 11AM) so there isn't links to bands. I'll add them later. I'll fix some grammar too.
– Don't worry, no more Decemberists performances.