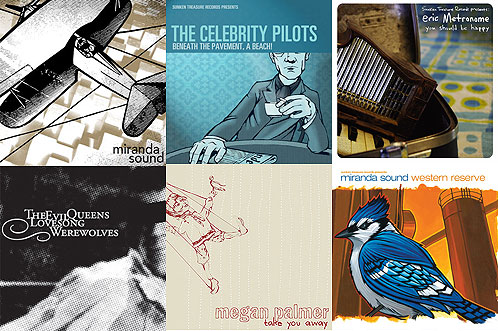 Sunken Treasure Records is our small companion record label to donewaiting.com. We've released a bunch of albums over the course of the last few years, and we've decided to make all of them available as a free download for the rest of December. Click here to see what we got and get downloading. You'll find the latest releases from Megan Palmer, Miranda Sound, Eric Metronome, and The Evil Queens as well as the first album by The Celebrity Pilots.
We've also announced our next releases for 2009. ur first release next year will be a split seven inch vinyl release featuring Columbus' The Black Swans and Brooklyn's Alina Simone. Both songs are beautiful and heartbreaking, and you'll surely want it in your collection. Expect that in the Feb/March timeframe.
We also plan to work with Eve Searls, aka Bird and Flower, on the release of her debut album. I've been a fan of Eve since she first popped up on the scene and her first effort is fabulous. This will happen sometime in April/May (which will be here before you know it…)
More to come, including some Megan Palmer vinyl, and maybe a few more tricks up our sleeves. Happy holidays!