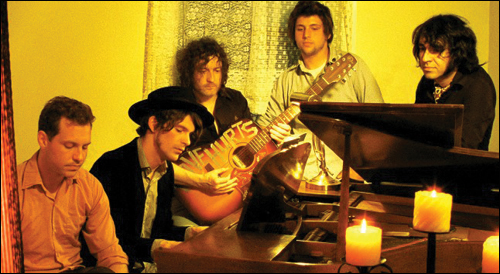 Trevor from Montreal's The High Dials contacted me a few weeks ago, asked if maybe I'd throw something up on Donewaiting about his band's upcoming Columbus show. Though The High Dials have released four full-lengths since 2003, the name didn't ring a bell to me, but I took Trevor up on his offer to send me a copy of Anthems for Doomed Youth.
Too bad I didn't hear this thing earlier in this year as it would definitely have ended up on my year-end favorites list. I'm not sure about their past work, but on Anthems for Doomed Youth, The High Dials are an unadulterated, timeless power-pop band that write songs about broken relationships ("Teenage Love Made Me Insane", "I'm Over You (I Hope It's True)", "What You Call Love is a Lie").
Teenage Love Made Me Insane by The High Dials
There's bits of Teenage Fanclub, Mike Viola and the Candybutchers, the Pernice Brothers and Fountains of Wayne in the dozen tracks and, not sure if this is a ringing endorsement or not, but my wife – who very rarely shows interest in what I'm listening to – asked me who I was listening to last week when I had this playing on the iPod boombox.
The High Dials join Dayton's Lab Partners and Columbus's The Main Street Gospel at Carabar on Monday night. As always, it's a free show. Expect things to kick off at 10pm.