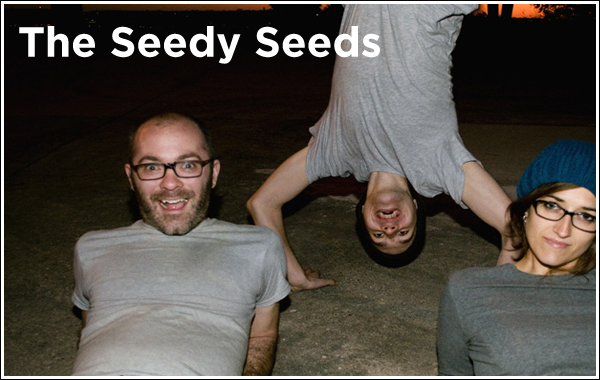 The Seedy Seeds perform on the BudLight stage at 4:30pm on Sunday, July 15
The Seedy Seeds are a fun/quirky/cute folk/electronic/indie trio from Cincinnati.
What does "bunbury" mean? (No cheating; give it your best guess)
A Bunbury is a variant of the Bluebury and is used primarily in the production of delicious muffins.
What does a festival like this mean for Cincinnati and/or Ohio?
Honestly a festival like this doesn't have to mean a lot for Cincinnati nor Ohio, and it will only mean anything if the city and the music community accepts it and runs with it. Too often, hats are hung on events and movements that are the creation of one tiny little sector of the community, while the rest of the community just waits for another one to be handed to them. "Sure our scene is awesome, we had Weezer play here once." What the Bunbury folks are trying to do here is raise the bar another notch, but in order for this to really take its place among the Bonnaroos and the Forecastles of this part of the country, it has to lead by example, not be the only example.
What I HOPE that what it means for Ohio is that others will take up the cause of finding new and inventive ways to present live music and use Bunbury as a guidebook and annual reminder of how it's done right; not just to sit back and wait year after year for someone else to do all the work for them again and again.
What is one thing that people who aren't from Cincinnati, whether it be other bands or festival attendees, should know about and/or see while in Cincinnati?
Cincinnati is a fantastic city that sometimes does an embarrassingly bad job of pointing visitors in the direction of awesome things. Lurking just outside the business district of downtown: The Cincinnati Museum Center and Contemporary Arts Center are fantastic; the Cincinnati Zoo is quite literally second to one (#2 in the nation behind the Columbus Zoo!); Shake-It Records is one of the best record stores in the nation; and if you're into completely amazing vintage guitars, check out Mike's Music just up Vine Street.