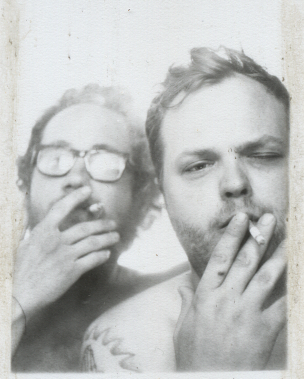 MP3: $100
Justin Kinkel-Schuster of St. Louis, MO band Theodore got together with Oxford, Miss. multi-instrumentalist Andrew Bryant to play some songs and record. Eventually a new project, Phantom Limb, was born — although another band named Phantom Limb already exists so the pair changed their name to Water Liars and titled their debut Phantom Limb.
Album opener "$100" kicks off with a big, sludgy guitar riff, then melds into a kind of rumpled folk-pop that fits in nicely alongside other artists who call Misra Records home, or have at one time: Centro-matic/South San Gabriel, Great Lake Swimmers, Phosphorescent, Southeast Engine. It's also a good introduction to Kinkel-Schuster's tenor, which the Riverfront Times once said was the best in St. Louis.
Phantom Limb is out Feb. 28 on Misra, which is now based in Dayton, Ohio.