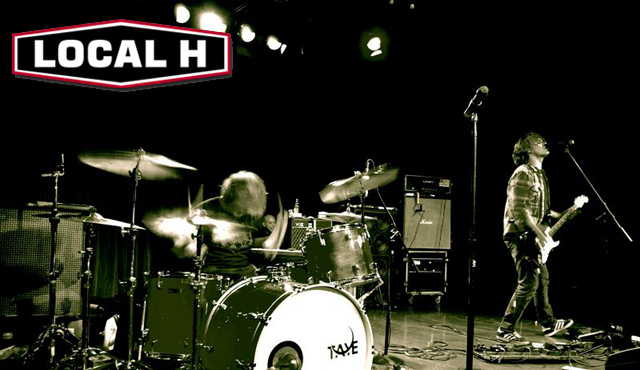 "Dude, I love that one song, you know, the 'Copacetic' song. Yeah man, I LOVE Local H."
I imagine this conversation happens a lot in large part due to the blessing/curse of radio stations becoming fixated on 1996's "Bound for the Floor" (did you even know that was the title of the 'Copacetic' song?) and, for all intents and purposes, making Local H a "one-hit wonder" despite the fact that the duo (Scott Lucas and Brian St.Clair) have been pumping out albums at a steady pace ever since then. Sure, they've had a bit of radioplay/success with songs like "All the Kids Are Right", "High-Fiving MF", "Eddie Vedder", "California Songs", etc., but call CD102.5 or 99.7 and request a Local H song and you're most likely going to hear "Bound for the Floor".
Local H is currently putting the finishing touches on their 7th full length, Hallelujah! I'm a Bum, which will hit shelves this year. In preparation of that release, the duo is road testing songs and we should get to preview a number of those on Friday night at The Basement. Don't expect a ton of deep cuts, so far on this tour they've been playing new stuff and greatest hits type material but you never know what they're going to be pulling out so expect the unexpected.
Scott Lucas's other band (don't call it a side project!), Scott Lucas and the Married Men, will also be releasing new material in 2012 – Blood Half Moon is due out in June and you can download the title track here.
Scott Lucas and the Married Men will return to Columbus on June 17 for a show at The Summit, the same venue they played in February 2010. Check out their DonewaitingTV session here.