Tag Archives:
Vivian Girls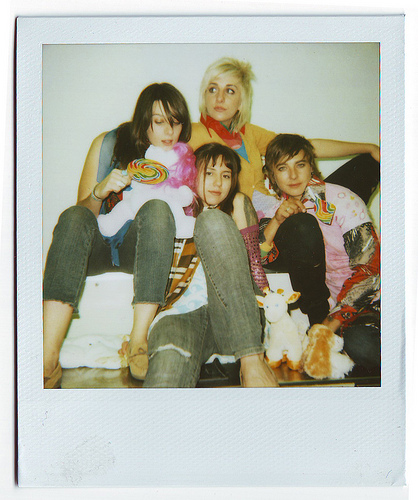 Recently added to the Vivian Girls show at the Summit this Friday is Cleveland's HotChaCha, who'll serve as the local-ish opener. The all-girl group's full-length debut, The World's Hardest Working Telescope & The Violent Birth of Stars, won't be out till October on Exit Stencil (Spanish Prisoners, Dreadful Yawns), but we've got the leadoff track for you below as a sneak preview.
mp3: HotChaCha – One Thousand Pillows Soft
Huge guitars drenched in delay, vocals with attitude–at times it's hard to tell if these girls wanna be post-rock, post-punk or just plain ol' punk. Either way, it's a tasty soup. CMJ said it well recently when describing HotChaCha's first EP:
…this all-femme foursome squeeze late '80s 4AD into today's A.D.D. indie subset, with little regard for lilting over-reverbed soundscapes, but lots of chiming '80s chorus pedals that take dead horse post-punk riffs out of the glue factory for a spell.… The vibe here is art-school dropout, the look approachable punk-gal, but the songwriting simmers out of Ohio's femme-forged, rustic alt-rock past (Heartless Bastards, Scrawl).
Oh yeah, and we've got a pair of tickets to this one, too. To enter this contest, send a blank e-mail to contest@donewaiting.com with the subject VIVIAN GIRLS. A winner will be randomly chosen on Friday morning, 8/28.