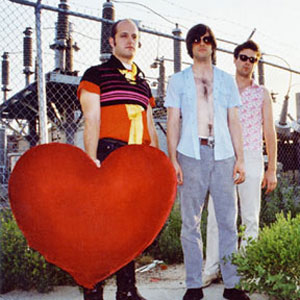 I'm pretty psyched to see Oneida. I've loved this band since I first laid my ears upon Come On Everybody Let's Rock. Within there's a song about cocaine that's "profound." But that was a while ago, and in the past decade Oneida has flown under the underground, doing exactly what they feel like doing. And doing Terrastock is something they should've been doing a long time ago. That decade has produced albums like the monolithic double LP Each One Teach One and their opus, The Wedding (a record made with industrial-sized, player-piano cylinders). To say they've been underappreciated is premature, just wait until your kids get a hold of these albums. Needless to say, the main attraction of Terrastock, besides a Simply Saucer reunion, is getting to finally see four of my head heroes in action (though they swear they played Bernies at one point). I caught up with Fat Bobby before some very prestigious shows in NYC.
Do you ever feel like you've reached a threshold of "epicness"? Like it's getting harder and harder to top what you did last time?
Your question assumes a certain level of premeditation that just is not there in the creation of our music.
I remember a time when you were searching for a real harpsichord. Did you ever find it? What are you looking for these days?
Ha! You have an excellent memory. We did NOT find the harpsichord we wanted at the time we wanted it….and then, lo and behold, we stopped stressing, moved on, and recently an electric harpsichord (in terrible shape) has come into our lives. A classic example of chilling the fuck out and letting the universe have its way with you.
Not to dwell on Oneida's past, but how did you get the idea to record The Wedding with giant music box cylinders? Did the process ever overshadow the recording of the songs? Were you happy with the results? Are we ever going to hear the raw tape from those sessions, the once promised "dub" version? Continue reading →