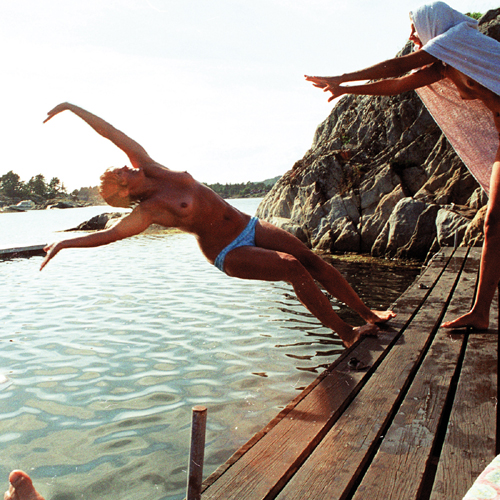 MP3: "About to Walk"
The fact that most of the indie online community spent the bulk of last week waxing nostalgic about Neutral Milk Hotel's opus and (so far…) swan song In the Aeroplane Over the Sea, is a testament to that album's endearing resonance and effortless grandiosity, so much so that a decade removed, anything even slightly resembling Jeff Mangum's tortured croon and baroque arrangements (i.e. Decemberists, Beirut) is showered with accolades even if it's incapable of eclipsing this generation's Sgt. Pepper's.
Moonbeams, the debut from Seattle's Throw Me the Statue is not exactly the second coming of Aeroplane but it is an imagined carnival of synths, bubbling tropical brass and sundrenched melody – worthy of giddy enthusiasm and multiple studied listens. Here Scott Reitherman (with a little help from some friends) forges a sound too ramshackle and carefree to carry such a torch. If anything Moonbeams embodies Mangum's (and the entire Elephant Six Collective's) inner-child, and that spirit is let loose to express itself within a bedroom full of eclectic musical toys and oddball love lyrics.
"Lolita" and lead single "About to Walk" are the bright buoyant gems that define his pop ambition. The latter, the most immediate, a cut-and-paste of cloudy distortion, acoustic strums, answering machine messages, and boundless melody. The songs on Moonbeams are catchy to the point of being almost too saccharine ("This is How We Kiss" bringing to mind first contact with Fountains of Wayne), the twee addition of xylophones and hand-claps don't help to diminish the sugar rush.
Reitherman though does not lead us through the circus without humbling the us with bread. The album's second half projects a mood of heart-on-sleeve emotion to balance the initial blast of whimsy. The title track in particular owes artistic gratitude to the Oldhams and Callahans of the folk world, sung in fragile quivers but still sounding hopeful, triumphant, even if it could all tumble with the wrong utterance from his lover.
While the album's status as a "classic" may only come in flashes throughout, the rest of the time Moonbeams is irresistible fun without being overly cheeky. For that it's hard not to recommend, especially with spring around the corner.
BUY: Amazon.com