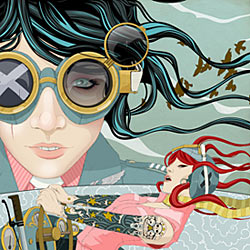 What did the world do to deserve this?
Through her many real and apocryphal connections to "The Sandman" — Amos wrote the introduction to "Death: The High Cost of Living," references author Neil Gaiman and the Dream King in her music, and is generally thought to be the inspiration for Delirium — Amos is known to comics fans as one of us. She aims to prove it with the help of editor Rantz Hoseley and Image Comics, who will this summer release "Comic Book Tattoo," a nearly 500-page deluxe-packaged anthology featuring some of comics' brightest talents including David Mack, Mike Dringenberg, Jonathan Hickman, Carla Speed McNeil, Laurenn McCubbin, Kelly Sue DeConnick, Ivan Brandon, Callum Watt, Neil Kleid, Christopher Mitten, Elzabeth Genco, Chris Arrant, and Daniel Heard — all of whom turn in new work inspired by the music of Tori Amos. (full story)
If I read this 10 years ago I might have been excited, but now, man, I just don't know.