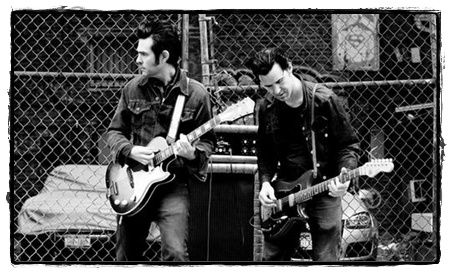 I made a cassette dub of the La Bamba soundtrack when I was in high school. The movie was pretty good (from what I can remember) and did a bang-up job of showing the early days of rock n' roll. Simpler times, simpler music, much of it with a rockabilly slant. Something about Heavy Trash's third album, Midnight Soul Serenade, makes me think of La Bamba, like maybe had the duo (Jon Spencer and Matt Verta-Ray) been around back in the '50s, they'd have done the Winter Dance circuit with the likes of the Big Bopper, Buddy Holly and Ritchie Valens. As with anything Spencer's associated with, Heavy Trash can be a bit sleazy, a bit garagey, a bit blistering, but there is still the basic element of early rock n' roll in the short blasts the duo spit out.
MP3: Gee, I Really Love You (from the Fat Possum release, Midnight Soul Serenade)
Cheater Slicks and The Unholy Two open this BenCo show. $10 will get you a night of noisy rock, $2 more if you're over 18 and under 21.