MP3: Kopaz – "Teeth Like Cities"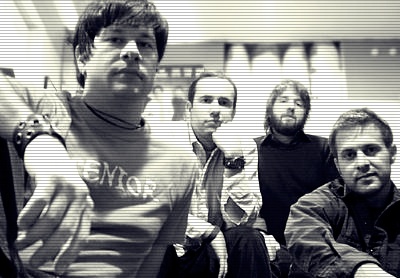 An album that has been sitting on a hard drive, 85% complete for the last five years, is finally going to see the light of day tomorrow night at the Rumba Cafe. In a way, it makes me sad because I wonder just how many other bands have started down the process of recording something new, something that started off as a dream to further their musical career but fell by the wayside for any number of reasons (finances, jobs, weddings, kids, disagreements, etc.).
Fortunately, Kopaz's breakup had nothing to do with bad blood among band members. Rather, it had more to do with singer/guitarist Brian Hake and drummer Nathan Keister diving headfirst into parenthood and … gasp … responsibilities for lives other than their own. Maybe in the back of their minds, they knew that Teeth Like Cities would eventually be completed. Maybe they didn't. All I know is that an album that was primarily recorded in 2005 (the band finished off the remaining bits and pieces earlier this year) stands to be my favorite local release of 2010!

The thing I always found the most interesting about Kopaz during their heyday on the High Street strip was that were you to see the band members' individual influences – and were you to glance through their record collections – you'd never have guessed that, when brought together in a rehearsal space to bang out newly written compositions, they'd write and record the kind of music that they did. It just didn't seem possible.
Listening to Teeth Like Cities (and seeing the band play a pre-CD-release reunion show a few weeks ago), I couldn't help but think that had this band formed earlier than they did, and had the eggs they put into one basket hatched, we might very well be reading about Kopaz in Alternative Press and hearing them described as the logical heir to Sunny Day Real Estate's emo-rock throne. By no means is this implying that Kopaz rip-off SDRE but, rather, they take elements of SDRE's sound, jettison those sounds into outer space, cast a net and recollect those now star-dusted sounds for something altogether different.
While every song is breathtaking, the one that stands out is "Kozlowski," a slow-burner that builds and builds in the first half, cuts the engines for a minute or so, and then literally explodes with frantic guitar interplay between Hake and Sean Gardner (wonder if Kopaz's gig with Scottish noisemakers Aereogramme back in 2003 helped influence this song at all?) with bassist Kevin Davison and Keister (drums) laying down a thick undercoat. It's nearly 6 minutes of musical bliss.
It's interesting to note that while Gardner (who shares lead vocal responsibilities with Hake in Kopaz) had already earned his Columbus cred before Kopaz, his post-Kopaz projects (Melty Melty, Winter Makes Sailors, Bookmobile) have made him one of Columbus's most prolific musicians and on more than occasion have thrust him into the local spotlight.
The real reason – at least according to the band – for this reunion is to finally give Teeth Like Cities a proper release. With that in mind, and with no future shows scheduled, it would be a good idea to head to Rumba Cafe to check out Kopaz and SPD GVNR on Saturday night. If you're like me, you'll run through all the "If only …" scenarios in your head as you watch what may very well be the band's swan song.