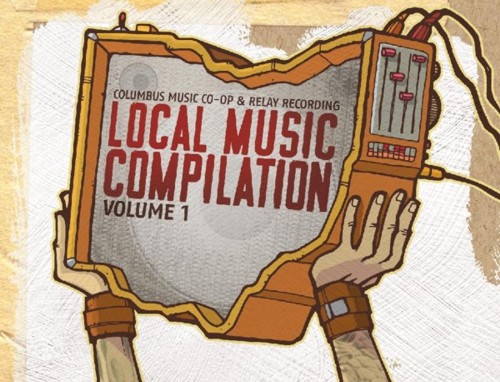 Album artwork by Mr. Clinton Reno
MP3:Bookmobile – Weekends of our Youth
MP3:Ben Schwabe – Crystal Branches
First a little disclosure right upfront- I'm an official part of the Columbus Music Co-op volunteer machine, so this is a project which is near to my heart. Looking beyond my obvious lack of objectivity, I think most of you reading this have some shared interest in the Columbus music community and will appreciate both the efforts and the results of this undertaking. Something like a year and half ago, a plan was hatched by Jon Fintel (Relay Recording) and Erin Moore of the CMC to provide a vehicle to showcase the variety and quality of music making in town. Of particular importance to the founders was the notion that equal attention should be given to young (high school age) artists, who would be showcased adjacent to more veteran musicians. Over the past year, Fintel donated over a 100 hours of studio time to record and master eleven original tracks, some of which are the first professional recordings made of the participants. All of them are available only on this compilation, which turns out to be a really strong collection.
On Saturday, February 13th Relay and the CMC will host the first of two CD release shows at Carabar, where copies of the compilation, complete with original album art, will be available for $5. In the spirit of providing a musical experience for young people, a second all ages and family-friendly multi-faceted release show is scheduled for Sunday, February 28th in the North Market Dispatch Test Kitchen from 1-5 pm. All bands are volunteering their time, so should any profits be made from shows or sales, they will go to fund the CMC's Columbus Music Assistantship Program to provide emergency medical expense grants to working musicians in need. Keep reading below for additional information on bands, a track listing, and set times.
Continue reading →