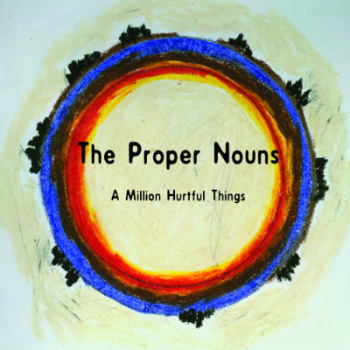 MP3: The Lesser Stars
Two years after releasing their first full-length album (Birds & Butterflies) on Columbus Discount, Columbus' Proper Nouns have returned with A Million Hurtful Things, their first release on upstart local label All Hail Records. Though the boys at CDR recorded most of the album and the relationship between the label/studio and the band appears to be intact, the shift in headquarters seems to make sense stylistically. The Nouns' precise pop doesn't mesh very well with the rougher textures of bands like Necropolis and El Jesus De Magico (however unfair the pigeonholing may be), and as they are a bit unique in the Columbus "scene," the association with a more varied label like All Hail (Paper Airplane, Electric Grandmother, etc.) likely ensures a less biased perception of their tunes.
After the two-year break, A Million Hurtful Things builds well on the foundation laid on their previous release. The band's lineup has changed, with Justin Riley (Terribly Empty Pockets, Super Desserts, etc.) replacing the departed Dave Gibson on Wurlitzer, other keyboards, and background vocals. Though the keyboards have always been an integral part of the Nouns' sound, Riley seems to be more assertive in his contributions, especially on the Animals-esque "Conditions Are Worse" and the jaunty "The Lesser Stars." Lead singer/guitarist and primary songwriter Matt Ogborn has concocted another batch of roughly delicate pop songs. His wit and enunciation are as sharp as ever, lending humor to "Long-Time Correspondent" and the "sneering" "My First Death Ray." The rhythm section of Travis Kokas (bass, background vocals) and Phil Francis (drums) continues to provide a steady backbone for the band, and Francis' rumbling fills add excitement.
Though the sound presented here is very similar to that of their previous effort, the main difference (and in my opinion, improvement) is that the songs on A Million Hurtful Things are much more drawn out and relaxed, with a perceptible swagger that was often lacking in their previous material. These longer tunes seem to allow the band to get more comfortable with the task at hand, to pleasing effect. The addition of handclaps is nice too.
The Proper Nouns will celebrate the release of A Million Hurtful Things with a show at Cafe Bourbon Street on Friday, May 2. Joining in the festivities will be RTFO Bandwagon and Heavy Mole.