Slave Labia "Indian Summer" Cover
Tonight, The Hive Dwellers are playing at Skylab. You can't mention the Hive Dwellers without bringing up Olympia, Washington DIY pioneer and the band's founder Calvin Johnson. He helped nuture punk's existence, and ethics. His early band Beat Happening was written about in "Our Band Could Be Your Life" alongside other important punk and DIY legends  like Black Flag, Big Black, and Minor Threat. And of course there is Calvin's relationship with Kurt Cobain.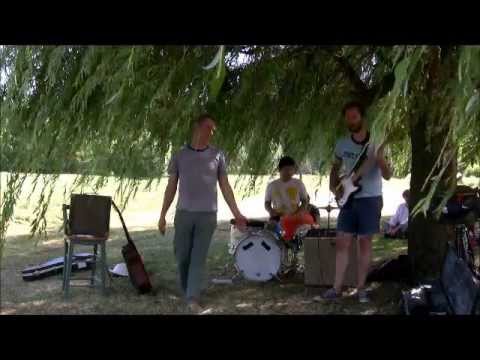 The Hive Dwellers "Get In"
It's kinda of a bummer to talk about someone's old band . So it must be noted that the Hive Dwellers  themselves are a band of interest. Calvin's deep voice bellows about  love, loss and subculture dynamics  over stripped down but charming rock music.
Bird and Flower, Erin Earthling and Slave Labia are also on the bill..
SO because of this show, Slave Labia  and I met up at Skylab for an interview last week. The all-girl band recorded an impromptu acoustic cover if Beat Happening's  "Indian Summer". We also discussed the name Slave Labia,  some of the more colorful topics they sing about —ie "Masturbating At Work"– and also their feelings about the Riot Grrrl movement.