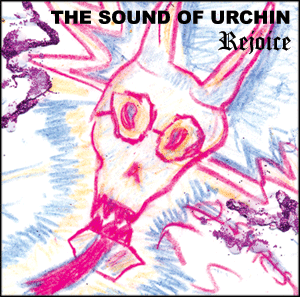 MP3: Go To Your Room by Sound of Urchin
For the uninitiated, the sound of Brooklyn's Sound of Urchin is a bit hard to describe and always prone to evolution. Through their 2002 debut (major label) full-length You Are The Best and onto its 2005 (not major label) follow-up The Diamond, lead singer/drummer Tomato and his merry band of miscreants have seemingly fought to mash their influences and desires into something that rocks hard but finding cohesion has sometimes been difficult.
Their new release, Rejoice, builds on the progress they made on the second album, resulting in their most accomplished statement to date. While the proceeds never reach monotony, the quartet has honed a solid base of anthemic hard rock that is colored by some extended jams, some thrash-outs, and even some good ol' fashioned cowbell. Tomato's lyrics are just as whimsical as ever and rather idealistic for a dude that hates hippies, but you know, life is complicated. Some highlights include the pleading 808 jam "The Last From Me," the gentle wake-up anthem "The Rooster Says Good Morning," and the pleading "Don't Walk Me Down That Road," anchored by Doo Doo's sturdy bass. "Disappointment Has Come Upon Me" features some twin guitar shredding courtesy of co-lead guitarists Reverend B-Ill and Seahag ala Thin Lizzy (their myspace page describes their sounds as a combination of Thin Lizzy and the Bee Gees, which I can't argue with much). A few of the songs are a tad overdone, and I could really do without the last track, but the complaints are few and far between here.
Sound of Urchin is in the last week of their album launch tour and will be touching down Thursday night (today) at the Ravari Room. Your paid admission includes a copy of Rejoice, which is quite a benefit. The album doesn't officially drop until 2008, so the boys want the jams in the hands of the fans pronto. Opening are their Columbus pals The Brown Notes and Dobbs, a new Columbus trio featuring ex-Salthorse drummer Chris Cox. If you need any more convincing, here's a vintage SOU show review from yours truly.