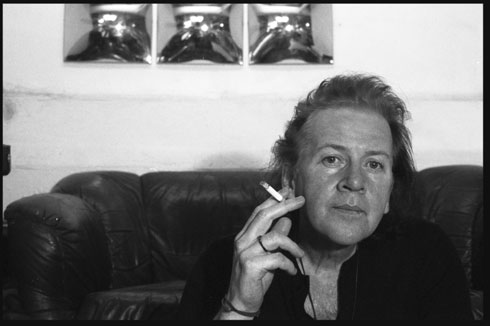 More than 30 years ago, the Saints, in what was something of a fluke, made their initial mark on rock 'n' roll. Disdained in their home of Australia, the band's brash sound found an audience in the burgeoning punk scene in England when their single, "(I'm) Stranded," a seminal meshing of alienation and blistering licks, was released in 1976. But truly mavericks, the Saints didn't fit in among the spiked and safety-pinned, and soon loss favor with that crowd as well as their record company. After three albums, they were dropped by EMI and the original line-up disintegrated.
The Saints may have been just another, albeit bright, flash in the pan, but singer Chris Bailey has continued to soldier on, recruiting new members while following his muse. The band found widespread success in 1987 with All Fools Day (my introduction to the band), but was stymied two years later, when TVT, the label that released the album in the States, instigated legal proceedings with the band's Australian home, Mushroom. Bailey and the Saints were caught in the middle and weren't able to release another record until 1997. But the last ten years have shown the band return with renewed vigor. Their latest album, Imperious Delirium, is a riveting blend of the wit and raucous rock 'n' roll that has long been Bailey's stock-and-trade.
The band is hitting American shores this week, playing their first show Thursday at Cleveland's Beachland Ballroom, and the second here at Bernie's on Friday. I caught up with Bailey on the phone in his home in Amsterdam before their departure.
Your new record is out here on Judy Collins' label (Wildflower). You must find that a little humorous.
On the one hand it could be incongruous, but on the other hand it does make a certain amount of sense. I have to admit that when it was fist mooted to me my reaction was "Why?" But I'm a bit of a Judy Collins fan, strangely enough, and I looked at the roster they have, which is a bit eclectic, and it does make sense. Even though the Saints can be the caricature guys in the bus, hard-living, hard drinking rock 'n' roll chappies, there's a certain girlish sensibility. We're not just a typical cock-rock band. Over the years I've gone off on certain tangents that could be described as quasi-folk so it's odd that at this particular point in our—is it evolution or de-evolution?—we've gone back to a noisier perspective on the music spectrum. It's a good laugh.
Continue reading →