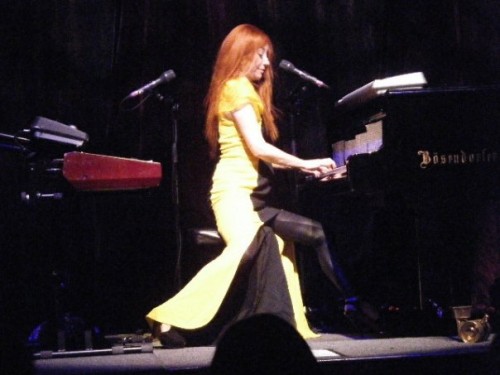 Most Tori concert Internet reviews start the same way. "This was my nth show, I've been a fan since 19XX, Album X, Tori was SOOOO GOOOOOD" I'll try not to do that. Instead here's my own fuzzy memory transcript of a conversation I had with Tori Amos on September 19, 2001, at the Virgin Megastore in Union Square, Manhattan, New York:
ME: So Tori, the next time you do a covers album, a little Queen would be nice.
TORI: I was gonna do Killer Queen!
ME: Aw, what happened?
TORI: Might play it liiiive….
ME: At your Beacon Theater shows next month, that'd be fantastic!
TORI: Which show?
ME: Any. I'll be at all of them.
I'm really not in the habit of remembering shows, I'm more in the habit of remembering going to shows. The things that happen before, during (apart from the music) and after. So it was that on October the 9th, 10th, & 11th of 2001 I found myself at the Beacon Theater seeing Tori Amos for three concerts, right in a row. I remember going with friends one night. I remember the guy who bought the ticket I had to unload on a sidewalk scalper sitting next to me and commiserating with him about how much he paid and how little I got. I remember going by myself one night right after kung fu class, getting to the Beacon from Bloomfield, NJ in an unprecedented (for the time of day) 38 minutes…I caught every green light going up 10th Avenue, and can still see that emerald chain of light in my mind's eye, stretching off into infinity with the promise of a great night ahead. What did Tori actually play? I'd need the Internet to know. I certainly remember what she didn't play. I also remember, after all was done, after sitting through a 3rd interminable opening act, a 3rd performance of '97 Bonnie and Clyde, a 3rd night of butt-to-seat numbnessosity, thinking, "You know what? I love Tori and all, but I'm never going to do this again. "
I could use more sentences, with more commas, to tell to you that I, in fact, did do it again. But I already did. Do it again, and tell you that I did it again. Again.
Here is how it all went down. If I type fast enough, I'll remember what songs she played and how it sounded.
It started innocently enough. I informed my loving wife, who, throughout this entire adventure was at my side, and whose daily showers of love, patience, support, and understanding are truly more than I ever deserve, that Tori was performing at Radio City Music Hall.
We'll get tickets, it was decided. Maybe Patty wants to go? We'll see and then get tickets. Maybe Patty's sister wants to go see the show in Phillly? Ah, she's playing in Philly, yes. Maybe we'll go to that one. Which one will we go to? Maybe we can visit my parents, they live close enough to Philly. We'll see who wants to go where and when, and we'll buy tickets to that one show. Which show now? Well, we'll see what prices are when they go on sale, and then decide.
New York on sale: *click* Bought. Philly on sale: *click* Bought. All right, so I bought tickets to both shows. That's a change of plan. So we're going to see both. Hooray.
A week or so later, the Red Bank, NJ show is announced, right smack dab in the middle. What do you know. Surely we can't go to that one, too. That would be crazy. Red Bank on sale: *click* Bought. Color me certifiable. Honey, now you're not gonna believe this…. Continue reading →