This weekend MTV ran an edited version of M.I.A.'s new "Paper Planes" video and she is rightfully pissed.
Here is the real video: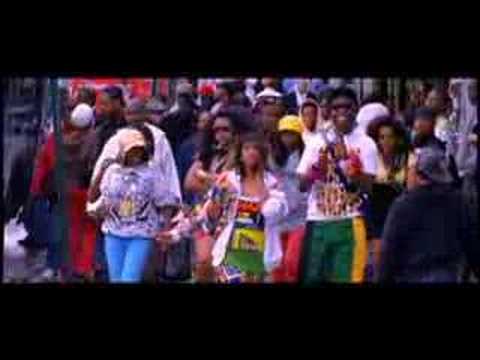 Here is an excerpt of what she wrote yesterday on her MySpace blog:
SO THEY TRIED TO SHUT ME DOWN AGAIN. I MADE THE PAPER PLANES VIDEO. I MADE IT HOW THEY WANTED. NO VIOLENCE. AMBIGUOUS. MTV – FRIENDLY. NOW TODAY, I CHECK YOUTUBE AND SEE THE LEAKED MTV PAPER PLANES VIDEO UP FOR THE FIRST TIME. I CLICKED ON IT AND OUT COMES THIS FUCKED UP MESS WITH DOUBLE-TRACKED BULLSHIT MESS

WHO THE THE FUCK IS DOING THIS TO ME?????

THE VIDEO WAS SABOTAGED FOR WHATEVER REASON AND IM DISAPPOINTED THAT MTV HAS HAD SUCH A MAJOR ROLE IN THIS. THE BLOGGERS WHO ARE LAZY ENOUGH TO FOLLOW THE MTV LINK AND POST UP AND COMMENT ON THE SOUND WHEN THAT HASNT BEEN COMPROMISED AND THE GUNSHOT ARENT REPLACED AND EDITED MAKES ME SAD. I DID FIGHT FOR THE SOUND , BECAUSE PUTTING MEANINGS IN YOUR VIDEOS, IN MY OPINION IS A DYING ART. I CAN FILM MY SELF ANYWHERE ANYTIME AND LET YOU KNOW THE TRUTH , BUT THE SONG IS WHAT I WANTED TO PRESERVE IN THIS CASE.

TO ALL MY FANS, LOOK, ITS LIKE THIS,
IM LEARNING THINGS ABOUT THIS WORLD WITH YOU, I WANT YOU TO SEE WHAT HAPPENS TO ME , I WANT YOU TO SEE HOW PEOPLE WILL SIT AND SPEND ALL SUNDAY TEARIN ME DOWN FOR SOMETHING I DIDNT EVEN MAKE OR PUT OUT, SO PEOPLE WELCOME TO MODERN DAY PROPAGANDA MESSAGE MANGLING.

IN 2007, AN OUTSIDER OPINION WILL BE CONFRONTED THIS WAY , AND THIS IS HOW THE BATTLE GOES, MY MESSAGES AND IDEAS AND MEANING WILL ALWAYS BE BROUGHT TO YOU WITH SLIGHTLY TAINTED CHANNELS. IF YOU SUPPORT ME BE SMART, AND KNOW THAT.