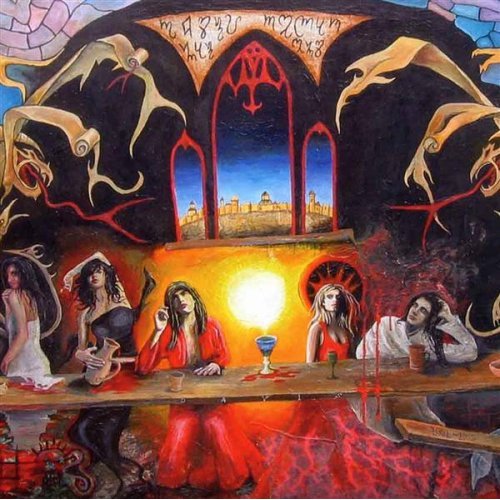 MP3: Thin Line
Man, Sweden seems like a happening place these days (or, you know, from my distorted American perspective, it's been cool for the last decade or so). I wonder how the live shows are over there, as that would be quite the road trip. Anyway, the swelling American rock 'n roll depot that is Tee Pee Records (Brian Jonestown Massacre, High On Fire, Teeth Of The Hydra) recently issued the self-titled debut from Gothensburg's Graveyard. This quartet claims old-school influences like Cream and Black Sabbath, and does a respectable job of honoring such touchstones.
From the somber opening drums of "Evil Ways," it is obvious that producer Don Ahlstenburg (The International Noise Conspiracy, Soundtrack Of Our Lives, etc.) has helped craft a gritty throwback record. Despite that (or inspired by it?), the band goes on to drop nine tracks worthy of today's rock ears. Lead singer Joakim Nilsson loves to howl on the fierier numbers ("Take Us For Fools," "Lost In Confusion"), but can also turn out a comfortable croon (though he does verge into "Grover"-esque territory at times during the otherwise-smoldering "Blue Soul"). Though the twin guitar attack of Nilsson and Jonathan Ramm does not delve into mind-bending pyrotechnics, there is a subtle (classically-influenced?) virtuosity in the instrumentation that keeps the proceeds light in front of the thunderous yet agile rhythm section of Bikar Edlund (bass) and Axel Sjoberg (drums). The boys possess a tempered sound that, despite surges in volume and tempo, never allows the songs to come off as "happy," so this is not a record to look to for a pick-me-up. However, the somewhat-downtrodden subject matter is rotated enough to avoid a severe onset of depression (especially with the sentiment of well-chosen closer "Satan's Finest").
Though Graveyard is not exactly an original rock 'n roll outfit, their style is varied enough to interest fans of both classic hard rock and more contemporary rock sounds. This effort is sufficiently sturdy to show the potential of a bright future beyond the grave.