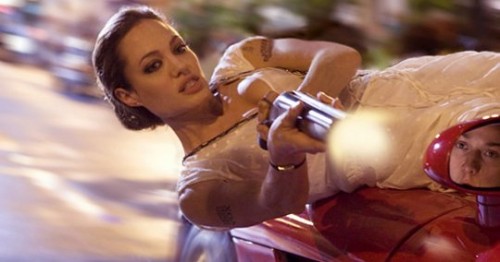 Like seemingly every third big studio movie this summer, Wanted is based on a superhero comic, a 2003 six-issue series of the same title.
In it, thinly-veiled versions of DC Comics supervillians have conquered the world and rule it from behind the scenes, lulling us into thinking that superheroes are just things in comics, movies and bad TV shows from decades ago. Perhaps due to legal reasons—I'm talking some thin, thin veils over those DC characters—the movie adaptation takes practically nothing from its comic source: The title, a couple of characters' names, two lines of dialogue and…that's about it, actually.
That in and of itself wouldn't really be a problem, at least not as problematic as where director Timur "Night Watch" Bekmambetov gets his inspiration instead: The Matrix movies. You would think that Matrix Revolutions would have been the stake through the heart of Matrix mimicry, but here we have a guy with extraordinary superpowers in a business suit jumping through an office building, gun-fu, bullet time, a sleepy-eyed office drone recruited into a war he's never heard of, and on and on.
That office drone is Wesley Gibson played by James McAvoy as a panic attack-prone pussy who everything always seems to go wrong for. All that changes when he's recruited by The Fraternity, a thousand-year-old group of Freemason-like weaver/assassins who worship a self-propelling loom called "The Loom of Fate." Leader Morgan Freeman inspects the textiles with a magnifying glass and decodes its binary patterns to form a hit list; the assassins operate on the "What if you could kill Hitler while he was still too young to grow a moustache?" principle of "kill one, save a thousand."
McAvoy's character is recruited by Angelina Jolie, creatively code-named "Fox," which, come to think of it, describes the entirety of her role pretty well. She subjects him to a training regime that's a bit like the torture porn version of The Karate Kid, and before you know it he's shooting bullets along curved trajectories and killing people with convoluted cart stunts. But something's rotten in this thousand year-old loom-worshiping conspiracy of assassins, and the only way to save the day is by shooting things. A lot.
Wanted is, at its core, a deeply stupid movie, but its main players are more than talented enough to sell this brand of stupid. Many of the action sequences may be derivative of Matrix derivatives, but they're well conceived and executed enough, and there's at least a couple of really cool moments (including Wesley's creative use of an ergonomic keyboard and, hell, the preview audience I saw it with really loved it every time Freeman dropped an F-bomb).
But there's nothing here that hasn't already been done much, much better in, say, Shoot 'Em Up (the action scenes) or Fight Club (the de-pussificiation of modern man throughline), the latter of which seems to have been almost as big an influence as The Matrix.