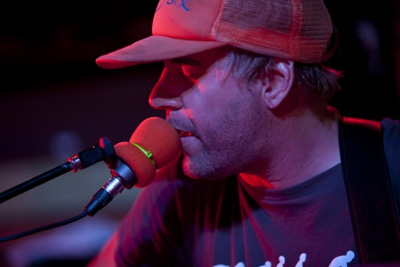 Columbus doesn't have too many "entertainment districts" per se, at least not comparable to a city like Austin (and 6th St. in particular) that is bar after bar, live music venue after live music venue. But last week, the arena district seemed to be hopping, an eclectic mix of baseball fans and families (at Huntington Park), classic rock enthusiasts (Zappa Plays Zappa at the LC), post-Happy Hour goers (the A&R bar), and indie rock aficionados (The Basement) who were intrigued at the prospect of catching ex-Granddaddy front man Jason Lytle in a solo-type setting.
Lytle is no stranger to Columbus – at least that's what I've been told by those who claim to have seen Granddaddy open for the likes of Pete Yorn and the Foo Fighters (can anybody confirm this?) – and truth be told, not to take away from any of the other talented players in Granddaddy, but it's pretty obvious that that band was clearly a Lytle-led band. So the skateboarder-turned-singer could easily have put out his new stuff under the Granddaddy name and nobody would accuse him of pulling an Axl Rose.
At 9:45, The Basement was nearly empty – I'm bad at estimating crowd sizes but I'd venture to say there couldn't have been more than 2 dozen people milling around. My hopes were that it was a late start and that the club would fill up to hear Lytle, whose solo album Yours Truly, The Commuter is a strong contender for my favorite release of 2009. It wasn't tough running into somebody I knew (Kim/Picture the Sound) who informed me that Wing & Tusk had already finished their opening set and just minutes after my arrival, Lytle and his band nonchalantly took the stage. When I say nonchalantly, I mean that there was no "Good evening Columbus, I'm Jason Lytle" type opening, the crowd (which had grown in size at that point but still couldn't have been more than 50 people) didn't burst into applause as the players took the stage, in fact, I sort of thought the band was soundchecking rather than actually starting.
When The Basement isn't filled to capacity, it completely lives up to it's name and the intimate nature of shows like this one truly make you believe that you have stumbled into somebody's basement and are catching a band during a well-executed rehearsal. Typically, I would have expected Lytle to follow "lead singer" protocol and stand front and center, facing the crowd, but during this performance he spent most of the show stage left, alternating between his acoustic guitar and keyboard. When he wasn't playing the keyboard, his compatriot Rusty Miller was, the two nearly on top of each other which, once again, gave it a very laidback, almost rehearsal-type feel.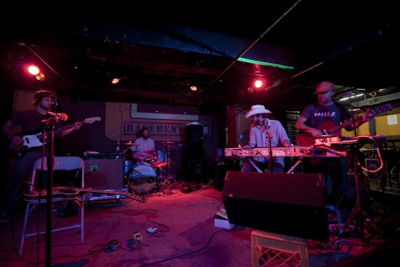 Lytle is truly an interesting character to watch – he's one of those performers whose overall appearance doesn't match the voice. With his salt-and-pepper colored hair (more salt than pepper) hidden under a trucker hat, Lytle looks more like a guy who'd try to hustle you out of a few bucks in front of the club to "just get a gallon of gas so I can get home" than a rock n' roll performer. And that's part of his appeal – he's kind of an average guy, the kind of guy that doesn't pose any sort of threat to stealing your girlfriend or being the subject of pin-up posters for high school girls. But his voice … his voice, and his everyday, yet (I hate using this word) quirky lyrics, are what have earned him such a loyal following.
The set list (see below for the entire thing) was a healthy mix of Lytle's solo stuff and Granddaddy stuff with some b-sides thrown in for good measure. Lytle's solo stuff doesn't deviate from the Granddaddy sound too terribly much. Consciously or unconsciously, Lytle draws from the same influences as acts like the Flaming Lips and Mercury Rev – the common influence of all of these artists being Pink Floyd in my opinion. I can't tell you how many times during Lytle's set I expected to hear him start singing "Yoshimi …."
On the Contrast Podcast episode titled "Best songs of 2009 … so far" I picked Lytle's "Brand New Sun" as my favorite track and though I've seen YouTube clips of it performed with just Lytle and Miller, with an entire band replicating it as close to the recorded version as possible, I'll stick with my selection of the song as one of this year's best. It's got a really cool, interplanetary, sunny beach vibe to it. When I interviewed Lytle in March (listen here) he mentioned that he had certain liberties when playing live, that he didn't feel the obligation to recreate everything live the same way he did on the album, primarily because Lytle's the type of guy that likes to tinker around in the studio and add little electronic-based, computer-generated noises. I was wondering how he was going to pull those noises off live and got my answer as his keyboard was pre-loaded with a lot of the little pre-song interludes that are spread throughout the album. Between songs, Lytle would fire off a short 30-second to minute-long loops of these piano/noise sounds as he and the rest of the band tuned up and got ready.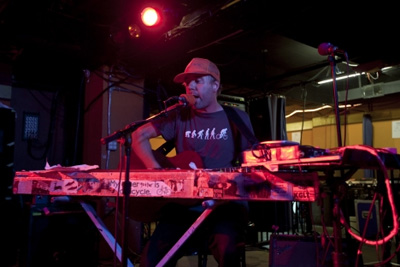 Having not seen Granddaddy live during their existence, it was a treat to hear songs like "Stray Dog and the Chocolate Shake" and "Saddest Vacant Lot in All the World" but, without doubt, the highlight of the set was the cosmic "Jed's Other Poem (Beautiful Ground)" which was completely hypnotizing. Ever hear a song live that you don't want to end? This is one of those songs – Lytle and band stretched it out to maybe 5 or 6 minutes but I would have loved it to go on for another 20 or so.
Jason Lytle @ the Basement Columbus, Ohio
The 15-song set (including the encore of "Rollin' Home Alone") concluded about 70 minutes after the band took the stage and though the crowd wasn't the largest The Basement has seen – without doubt I'd bet that most people in attendance will remember this as one of the year's best shows.
Lytle is currently doing some dates with Neko Case. While his set will be shorter, it's definitely worth showing up early to catch him if you can on these dates.
(View all of Kim's photos from the show)
(Setlist courtesy of Now It's On)
"Chartsengrafs"
"Ghost Of My Old Dog"
"Levitz"
"Yours Truly, The Commuter"
"Brand New Sun"
"Saddest Vacant Lot In All The World"
"What Can't Be Erased"
"Stray Dog And The Chocolate Shake"
"Derek Spears"
"Our Dying Brains"
"I Am Lost(And The Moment Cannot Last)"
"Jed's Other Poem(Beautiful Ground)"
"This Song Is The Mute Button"
"AM 180"
ENCORE
"Rollin' Home Alone"