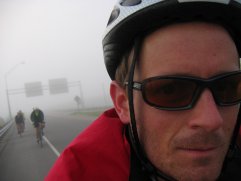 My great friend (and donewaiting.com writer) Ben Chenoweth had a last minute opportunity to join tomorrow's Pelotonia Bike Tour for Cancer Research. The bike ride, organized and led by Lance Armstrong, is 100 miles and goes from Columbus Ohio to Athens OH. He's raising money for the ride, and if you have any spare income that you'd like to donate (even $5), it would be going to a great cause. Click here to donate to Ben's ride and click here to learn more about the Pelotonia.
This is the note Ben sent to his friends, which I am sharing here:
In the last 48 hours I have been offered a very unique and important opportunity to participate in the inaugural Pelotonia Ride this weekend, an event with the goal of raising $40 million for cancer research over the next five years. I'm sure those of you that live in Columbus have seen the signs on buildings and in yards, or read about it in the Dispatch, but let me assure you that this is both a quality event and an even better cause. Lance Armstrong will be leading a pack of bike riders south 100 miles to the hills of Athens, each of whom has committed to raise a substantial amount of research dollars for the James Cancer Center at Ohio State.

And while I know no one is swimming in excess cash right now, it is with this fundraising goal in mind that I'm reaching out to you to ask for your contribution. As my participation has been only confirmed at the eleventh hour, some of my commitment has been generously covered by other riders, but I still need help. At this point, the number of people who get involved is more important than the dollar amount each gives. I'm serious when I say there is no donation too small, 5 or 10 bucks is ammunition in the war on cancer. Because corporate sponsors have covered the cost of the ride logistics, every dollar you donate goes not to me or to the ride organizers, but rather directly to disease fighting research at the James.

Let's face it, we all have been touched by cancer. Some of us have been more than touched- bludgeoned even. My feeling is that through this shared experience we might also work together towards a solution. I fully understand that not everyone is able to contribute or has already sponsored another rider, but if you would like to help, follow the link below and you will find my personal rider profile and a simple and secure way to make any size donation you wish. If now is not a good time, contributions can be made as late as October 31st.