UPDATE: Watch the video here of the performance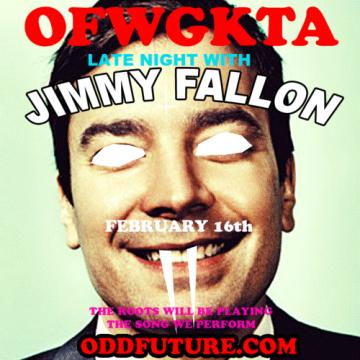 According to the LA Times, L.A. rap malcontents, Odd Future are currently in the middle of label bidding wars. So what's a better way to raise the stakes then play some key markets, hop on National TV with the Roots, and rock Coachella?
Who is Odd Future?
High School kids that can actually skate, and can actually rap who are also very anti-social towards the current hypebeast blog rapper.
Throw a little Wu, shock value and Dada in with the Cool Kids to make them not Jurassic 5. Or throw a lot Sean Price in with Das Racist. Or listen to rap and skateboard and don't be a fucking poser. Insert the real title for License to Ill instead of poser. Or don't.
That description too vague?
Download:Tyler The Creator-Bastard
Read features on Odd Future in the New Yorker, the New York Times and the Fadar
Catch them on tour:
ODD FUTURE ON TOUR:
02/14/11 Washington, DC @ U Street Music Hall
02/15/11 New York, NY @ Santos Partyhouse
02/17/11 Philadelphia, PA @ The Barbary
02/22/11 San Francisco,CA @ Slims
04/15/11 Indio, CA @ COACHELLA