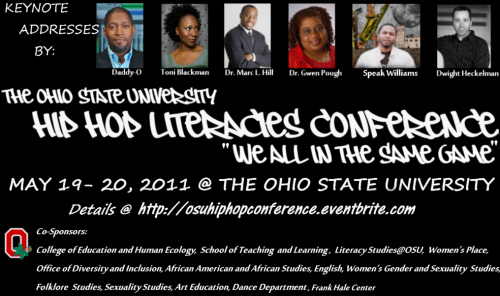 On May 19-20, The Ohio State University will host a Hip Hop academic conference entitled,
Hip-Hop Literacies: We All In The Same Game.
There will be panels, workshops and performances.
The conference is organized by Dr. Elaine Richardson aka Dr. E, professor of literacy studies in The College of Education and Human Ecology and author of Hip-Hop Literacies.
Daddy-O of Hip-Hop band Stetsasonic will head a Hip Hop and Technology workshop.
Stetsasonic was a pioneering outfit in the 80's that fought for artistic respect for Hip Hop, divestment in South Africa and still made party jams. Daddy-o also helped nuture Freestyle Fellowship, who were an innovative West Coast Hip Hop group in the early 90's.
Here is a pretty good interview with Daddy-O and Chuck D that aired on PBS in 1990
Other scholars and musicians involved: after the jump
Dr. Marc L. Hill, Associate Professor of Education, Teachers College Columbia University is one of the leading Hip-Hop generation intellectuals in the nation and will open the conference with a keynote address on Hip-Hop Pedagogy.
Dr. Gwendolyn Pough, Associate Professor of Writing and Women's Studies, Syracuse University will present a keynote lecture on Hip-Hop Feminism.
Music Industry Educator Dwight Heckelman is the primary catalyst behind Groove U the revolutionary 2 year music industry college located in the Short North. He will head a panel focused on the business behind beat making, sampling, and licensing.
Hip-Hop in the Classroom is an interactive workshop that will be led by emcee, performing artist, writer, and musician Speak Williams.
American rap lyricist, vocalist, actress and writer, Toni Blackman is the first Hip-Hop Cultural Envoy for the U.S. Department of State. She will close the conference with her groundbreaking "Rhyme Like A Girl" workshop where she taps into and strengthens the critical voices of women and girls through rhyme.
Students, faculty, staff, and members of the Columbus community are cordially invited to attend. Conference registration can be completed online at osuhiphopconference.eventbrite.com.
Admission for this event is free and open to the public but requires a ticket upon entry.